Iqbal Khan on wife Sneha, taking a break from work and why space is not important in a marriage.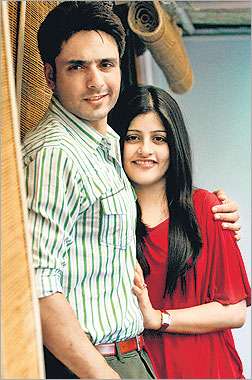 Iqbal Khan on wife Sneha, taking a break from work and why space is not important in a marriage.
Few years back, when Iqbal Khan met the 16-year-old Sneha Chhabra in Hyderabad, where they featured for the Falguni Pathak video 'Main Teri Diwani Hoon', he dismissed his co-star as 'a kid'. Years later, Iqbal bumped into Sneha again only to exchange numbers. Today, they are man and wife.
Special Sneha
Quiz the Balaji boy, what made him zero in on Sneha and he elucidates, "Marriage is not just about you and me, it's also about our families. Sneha is a homely person. Her approach to life is straightforward."
Togetherness tales
Iqbal is enjoying this extended honeymoon. "I'm enjoying doing small things like taking a walk, watching movies. As long as we are together, it doesn't matter what we are doing," reveals Iqbal.
Marriage marvel
He adds, "Marriage brings a feeling that somebody is always there for you – anytime, anywhere." He states further, "Irrespective of whether I perform well or not, I know there's somebody in this world in whose eyes I am the hero!"
Possessively yours
Considering that the Khan of the small-screen peaks the popularity charts, does it make Sneha possessive? "I'm a very good boy! I don't give her a chance to be so," retorts Iqbal adding, "Sneha handles the fan department. She even replies to them."
No space required!
Iqbal does not believe in the concept of 'space' in a relationship. "I do my thing you, do your thing doesn't appeal to me. This implies that either the couple does not get along or is on the verge of a break-up."
Sneha on Iqbal:


I found him responsible and caring. That's why I decided to spend my life with him. I've got myself a lap top because I enjoy recording his interviews on TV and in print.


He's a simple person. Despite being an actor, he doesn't spend hours in front of the mirror.


He pampers me like a child and even helps me in the kitchen or while putting the clothes to dry.


I love his emotive eyes and voice.