Actor Sarika dropped in to see her daughter on the sets of her upcoming film.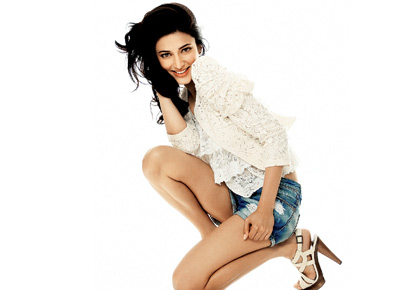 Actress Shruti Haasan, who has been shooting for a while now, was in for a pleasant surprise. Her mother Sarika dropped by to meet her and spend some quality time.
Shruti says, "My folks never visit my sets but my mum came to see me work on this film which made me very happy. And it was nice because we both work now and we had a lot to talk about, not just as mother and daughter but also as two actors. We bonded in a completely different way."
A source from the sets tells us that the surprise was all the more special as Shruti had not been able to spend quality time with her family due to her hectic schedule.
Lately, the actor has been travelling in and out of Mumbai to fulfill her various work commitments.
"Recently, she was hospitalised and was kept under observation for a few days. Her mother has been really worried and wanted to make sure that she is taking care of herself. So during the shoot of her upcoming film, Sarika made a special trip to the sets and the mother-daughter spent some quality time together," revealed a source and added, "Everyone had a great time and Shruti was thrilled to see her mother. They had lunch with the entire cast. Shruti looked really happy. Sarika stayed on the sets for a few hours and finally left."
Shruti just finished shooting for a film in Chennai and is heading to Dubai now for an award's function, where she will be given a special award for her performance in the film 3.