There was a surprise visitor on the first fay of shooting of the Showman's new film.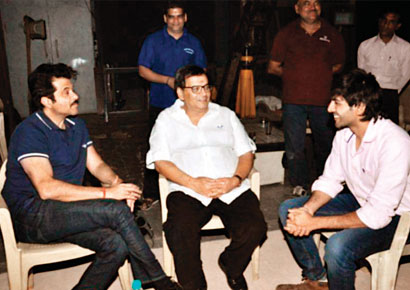 On Sunday, Subhash Ghai returned to direction after a gap of five years with the first day's shooting of his new love story Kaanchi featuring the talented actor Kartik Tiwari from Akaash Vani and Pyaar Ka Punchnama along with Ghai's latest female 'M' discovery Mishti.
Ghai was behind the camera directing a shot for the first time since Yuvraaj in 2008. A big moment for him when all his friends should have been around. While Jackie Shroff and Anupam Kher were shooting outside Mumbai, Anil Kapoor whom Ghai showcased as leading man in various avatars from Meri Jung to Ram Lakhan to Taal to Black & White to Yuvraaj made it a point to drop in and wish his old friend at Film City the very best although Anil is no part of the Kaanchi cast.
A member of the Kaanchi team tells us, "It was a very emotional moment for Subhashji. He has been through a lot lately. His dream project the acting institute Whistling Woods has been put under a legal dispute.
While Subhashji has been putting up a brave front determined to fight it out to a logical conclusion he has looked towards old dear friends and support. Anil has been there for Subhashji."
Says Ghai emotionally, "I was deeply moved when my buddy Anil came on the set to bless my unit on Sunday. He was as usual a livewire filled with advice for my young hero Kartik Tiwari." Apparently, Anil told Kartik to follow Ghai's instructions blindly.
Says Ghai, "That's right.Anil told Kartik, 'Never ask Subhash Ghai for a script. Just surrender and flow with his vision. Just be his actor. You have all the chances to give an award-winning performance. I got many awards by following Subhash Ghai.' I was touched and tickled by Anil's honesty. It was a special day. And Anil made it even more special."
Directing Kartik and Mishti for the time on Sunday Ghai felt a sense of déjà vu. "I felt the way I did when I directed Jackie and Meenakshi Sheshadri in Hero 29 years ago. Trust me, Kartik and Mishti are going to be recognised as great actors and surefire stars. They improvise a scene during the shot so effectively that you can see a perfect chemistry between the two. They are a real and yet a cute pair. Shooting with Kartik and Mishti I was reminded of my first day of Hero."
Kaanchi is the story of the journey of an innocent girl from the hills into a world of crime and corruption. In terms of format it is akin to Raj Kapoor's Ram Teri Ganga Maili.