It is no surprise then that the actor-producer-director puts moments of joy in personal life above professional triumphs.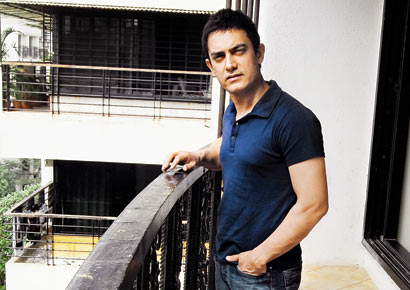 The birth of his son, success of his TV show, taking his Ammi for Haj, starring in a psycho thriller and getting back to action films — Aamir Khan has had a lot going for him this year.
Speaking about the upcoming year, he says, "Satyamev Jayate 2 is in its research phase and we'll start shooting after I am done with Dhoom 3 and PK." Talk about the criticism after he displayed waterworks during the TV show, and he says, "I did that show because I am a sensitive man because of my upbringing. There were moments when I had tears in my eyes. Critics can make fun of me, but I will do what I have to with full honesty. I am not answerable to anyone."
He adds, "The biggest learning from Satyamev has been community living and women empowerment. This time for Raksha Bandhan, I told my sister Nikhat that I too will tie her a rakhi as she also has the power to protect me."
Speaking about his personal life, Aamir reveals his three most favourite people in the world. "Coincidentally, the top three contenders are women — Ammi, my former-wife Reena and my wife Kiran. These women have the greatest impact on my life in their own ways," he confesses. The actor recalls a childhood incident.
"As a kid, I was a state-level tennis player. When I'd come home after a match, Ammi would want to know the outcome. Most often my answer would be, I won. But one-day she shook me up saying, 'I am sure the person who lost to you would have to acknowledge his defeat in front of his mother.'
"From then on, I started treating my opponent as a human being and would give him a hug even though he'd lost," Aamir tells the audience during the shooting of a special episode for Star Parivaar, where he'd asked for hard-hitting questions from the audience.
It is no surprise then that the actor-producer-director puts moments of joy in personal life above professional triumphs. "I remember after sharing a 16-year journey with Reena before we mutually decided to go separate ways. I took a four-year break to heal my wounds. It was specially hard for my kids, Junaid and Ira, who were so young. I spent as much time with them as possible," he reveals.
"Our son Azad, who is almost one, has brought a lot of joy in our lives and as his name suggests, he was an answer to our prayers that spelled freedom through surrogacy," says the proud father and adds, "The birth of my kids and taking Ammi for Haj will always live on in my heart as most cherished memories."
When asked to reveal which female co-star he is closest to, it was no surprise that Talaash co-star Rani Mukerji's name came up.
Looks like the actor is living out the title of his TV show to the hilt by giving out honest answers to some hard hitting questions from his fans.