We track three couples who are married in real life and are essaying husband and wife onscreen.
'We are not lovey-dovey on the sets' — Reshmi Ghosh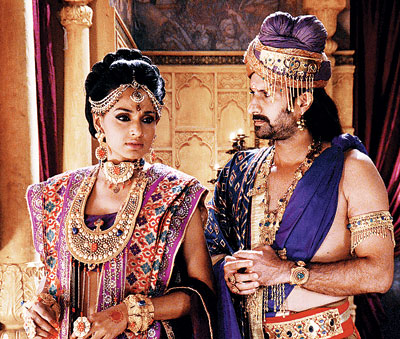 When Reshmi Ghosh was dating Siddharth Vasudev, she used to dream about being cast opposite him after marriage. "I used to wonder how it would be going with him as his wife to the sets everyday and being together. Now my dream has come true," smiles Reshmi who replaced Nigaar Khan as Anuj's (Siddharth) wife Mangal in Buddha. Though they have worked together earlier in Shobha Somnath Ki, Siddharth was worried that he might start laughing while shooting with Reshmi in Buddha. "As my wife onscreen, this would be the first time she would act with me, so I was a little apprehensive. Also, she was replacing another actress, so I gave her the background of the character and some tips, else it would have been a little awkward. However, Reshmi was comfortable from the second day itself," says Siddharth proudly. Agrees Reshmi, "When I had worked with Siddharth earlier I found him to be a very helpful co-star.
Now, as my husband he is doubly so! It's a treat working with him." But if you think the couple who tied the knot only a year ago spends all the time together, you couldn't be more wrong. Says Siddharth, "Before Reshmi started shooting with us, my co-actors would pull my leg saying I won't be sitting or eating lunch with them, once she joins us. Now, they are the ones telling me to have lunch with her!" That's because both have have separate rooms and they are together only when they have to rehearse a scene. "Both of us are extremely professional on the sets. He leaves me to work on my character while he prepares for his in his room. We are not lovey-dovey on the sets," smiles the actress.
'I cannot flirt with any other woman on the sets' — Sanjeev Seth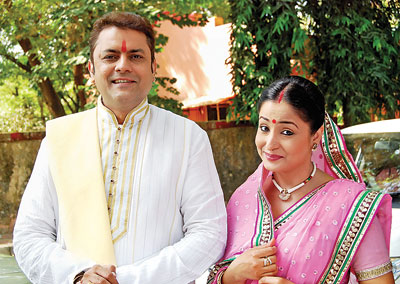 They were already playing a married couple Vishambharnath and Rajshri in Yeh Rishta Kya Kehlata Hai before they decided to extend their rishta to real life. Lata Sabarwal and Sanjeev Seth tied the knot when they were doing the serial and still continue their onscreen roles. Lata loves shooting with her husband because they get to eat lunch together and discuss family matters. But when it comes to work, she brooks no interference from her husband or vice versa. "We work as co-artistes. Both of us have our individual style of working and I think too much interference in that aspect will affect our professional lives. Having said that, it's a pleasure to work together and I would love to be cast with him again," says Lata. For Sanjeev, the only problem about working with his wife is, he cannot flirt with any other woman on the sets! "Other than that, shooting with her is hassle-free and very comfortable. Also compared to any other co-star, I can share my thoughts on the scene with her, which is an advantage," says Sanjeev.
'I can afford to go late' — Ashita Dhawan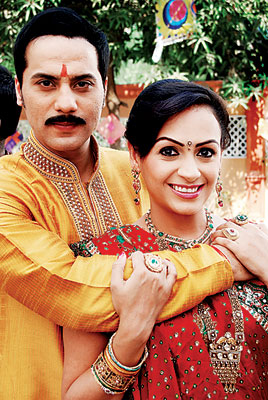 Though they have worked together in several serials, Ashita Dhawan and Shailesh Gulabani, hadn't been paired opposite each other till Aur Pyaar Ho Gaya came their way. The duo play a married couple Savri and Pratap. Says Ashita, "It's fantastic to be paired opposite each other. We balance each other perfectly. I am a chatterbox while he is calm and quiet. Since we are extending our real roles on reel too, it is fun. Our co-actors keep teasing Shailesh that he must not be able to get in a word edgeways!" But acting opposite her husband adds to the pressure of her performance. "When I am with any other co-star, I am focusing on myself, but with my husband, I have to see to it that it's good overall," says Ashita. Shailesh, on the other hand, says that working with his wife is same as it is with any other co-star. "On the sets I am a different person. I am quiet and do my work. Of course, there's great chemistry with my wife," he adds. The advantage of being cast together, says Shailesh, is going together on the sets. Also, they can afford to go late by half-an-hour "because when Shailesh is driving, I do my make-up," grins Ashita.