Though not exactly a new concept, item numbers have become a craze on daily soaps and thrillers.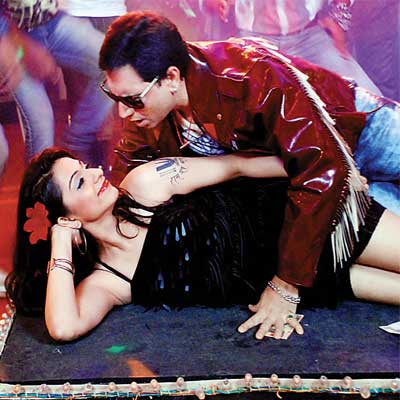 Using Bollywood songs to pep up the proceedings in serials is a tried and tested formula. Even actors dancing to hit songs during wedding celebrations, crossover or Mahaepisodes is passe. So much so that, Holi saw every channel having a splash with actors grooving to popular tracks. However, the latest fad to have caught the fancy of producers is item numbers.
Granted, it's not exactly a novel concept but over the last six months, every serial, be it a thriller like Shapath, or a soap like Hitler Didi, Na Bole Tum Na Maine Kuch Kaha, Punarvivaah and Madhubala, has had an item number to boast of. It may not be as outlandish as its filmi counterpart, but they are trying to get there. Starlets like Kashmeera Shah and Tanushree Dutta are being roped in for the special numbers in a bid to grab eyeballs.
While, Tanushree who has been missing in action on the big screen, danced to Fevicol Se in the crime series Hum Ne Li Hai Shapath, Kashmeera Shah who has in the past done Beedi Jaliale in Pratigya grooved to Maiyya Maiyya in Amrit Manthan. Hitler Didi had TV actor Neha Talwar shaking a leg to Balma, while Jayashree Soni gyrated to Chalia in Na Bole Tum Na Maine Kuch Kaha (NBTNMKK). The question is: do these item songs translate into more numbers for the serial?
Item numbers work
Sudhir Sharma, producer of NBTNMKK says that dance numbers garner attention. "Audiences love to see the complete song without batting an eyelid," he says while Neha feels it's a smart marketing strategy. "It is a good way to garner publicity in a TRP(Television Rating Points)-driven scenario," she says.
Hitler Didi producer Ila Bedi believes that songs and dance make audiences feel more connected with the characters and storyline. "And if a twist is added pre or post song it always helps. It also gives an opportunity to express joy, fun and happiness in a different way and all actors/performers get to wear colourful clothes providing a visual treat to the audiences," she says.
Producer director BP Singh hits the nail on the coffin when he says, "TV borrows heavily from films so it's not surprising that item numbers have also percolated down." Not only do they get ready-made songs, it saves them from going in for fresh recordings. "The reality is is we cannot afford fresh recordings," says Singh.
Getting raunchy
TV essentially being a family medium, raunchy moves or revealing outfits may not find favour with the audiences. Which is why BP Singh takes care that the costumes are not offensive even if the sequence is outlandish. In fact, Rajan Shahi had a problem when Kashmeera wanted to show more skin in her item song for Amrit Manthan.
"My show has a family audience, even my sensibilities are aesthetic. So, I insisted that the costume is decent." The shoot was stalled for two hours till the matter was sorted!
In the same serial the lead protagonist Adaa Khan did a seduction number in a sari!

Been there, seen that!
Viewers don't seem to be in favour of item numbers though! For instance, Aparna Sawant feels that they are just a disctraction and they don't help the story. "Also, we have already seen the song picturised lavishly in the film. On TV, the production values are low.
Yes, if they get a big star I will probably be interested," she says. Shreya Pathak on the other hand would rather see the good-looking lead pair dancing to a Bolly song than some starlet a doing an item number!