Sentosa island can turn out to be surroundings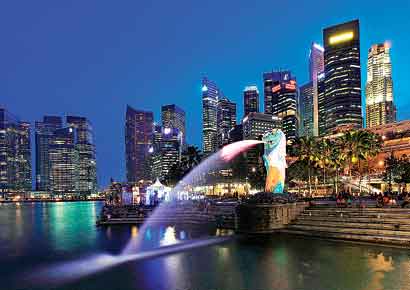 As a five-hour flight from Mumbai, Singapore is my ideal of the length of an international flight. So when I landed at Changi airport at 7 am, Singapore time, I was fresh enough to appreciate the flash and dash of my airport surroundings — sparkling shiny surfaces and the razzle-dazzle of fluorescent colours everywhere.
A half hour's drive from the airport was Sentosa Cove where I was headed. A tropical island considered the abode of the rich and famous, we made our way to 'W', the hotel that would house me for the next couple of days. As we drove down, I could smell the natural fragrance of tropical flowers and we also sighted a peacock strutting across the road.
"There are many such animals in the bushes that roam freely on the roads. Drivers had better motor cautiously lest they hit an animal and incur a $500 fine," my guide informed me solemnly. Ocean Drive, the road appeared and also the hotel which stood by the harbour where a couple of dozen yachts are anchored.
Settling into the confines of my room, I was unprepared for what followed — what with the weather making a dramatic U-turn. When I entered my room the ocean breeze from the South China Sea was balmy but then suddenly an hour later the sunny seascape changed complexion. A mini storm complete with thunder and lightning raged through the skies in the early afternoon spraying my hotel balcony with showers even as I watched with fascination.
Later, I used a trip to the chemist as an excuse to undertake my own expedition under rainy skies (I was told weather changes are a regular occurrence on the island), making my way to a mall and inadvertently getting lost in the maze of hundreds of shops. Nevertheless I managed to find what I needed and returned triumphantly to the hotel, holding it aloft.
The taxi driver who drove me to the hotel turned out to be a honest Singaporean who was all agog about driving to Sentosa — since, I presume, he didn't get to go to such a 'glamorous' location very often. I must be doing something right — I thought inwardly — if even local Singaporeans are envious! Over the next three days I undertook a comprehensive tour of Singapore with a view to examining its design and architecture, attended a swish hotel opening party along with hundreds of guests — one that went on all night and saw a 1,300 bottles of champagne alone opened — and gymmed as if it was going out of fashion.
And when I returned to Mumbai, I truthfully reported to my family that it was absolutely the most glamorous vacation that I'd ever had. Yet when I sat in a familiar dusty yellow and black cab at Mumbai airport, I thought that while it's nice to be part of an electrifying dream, it's even nicer to wake up afterwards and return to a place called family.