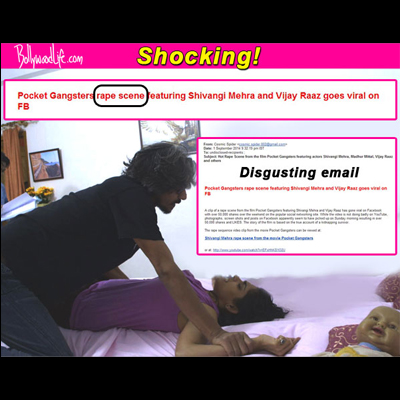 Film publicity seems to have dropped to an all time low with some publicists boiling down to use bizarre scenes for a film's publicity. In one of the most outrageous PR acts ever, the PR firm Cosmic Spider decided to promote a film they are handling, titled 'Pocket Gangsters' through offensive lewd videos.
They sent out mails whose subject read: Hot Rape Scene from 'Pocket Gangsters' and included the video link to the rape scene in the film. From leaked smooching scenes to a video titled 'hot Shivangi Mehra bathing scene', the PRs did not leave any stone unturned to catch attention.
Extremely provocative and below the belt, this incident is a testament of the cheap stakes that some PRs have started to follow and the cheap publicity that many have warranted for their clients.
The film, which has a rape scene between the lead actress Shivangi and Vijay Raaz, might not encourage rape but such a marketing strategy definitely has raised a question on the publicist's intentions. And moreover, how could the producers even allow the PRs to do such a cheap stunt, is what has left us shocked.
Disgusting and distasteful, this incident definitely shows how publicists are making use of the social network platforms to capture attention and that too by such cheap gimmicks! Sad, but true!