For designer Rina Dhaka, fashion is less about making a statement and more about telling a story through her clothes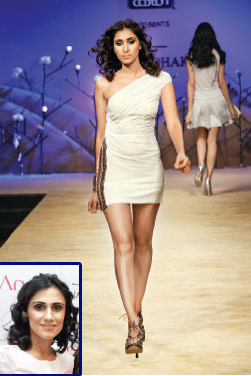 As a designer, Rina Dhaka is as cool as her clothes are zazzy. That she will be 'finally' taking part at the Blenders Pride Bangalore Fashion Week, Summer /Showers 2013 on Sunday has us excited. "I have for many seasons wanted to do it, foremost because I love the city of Bangalore," is how Rina Dhaka opens up in this quick chat with After Hrs.
"The shows of that region are distinct from what we have here in New Delhi or even Mumbai and I think it's good to show the collection in Bangalore, which is an important part of contemporary India."
"Generally, like most designers I end up getting busy this time of the year and that is why I haven't come earlier. So, this time around, I quickly said yes," she says with a laugh.
Giving us a quick peek into what she'll be showcasing here, Rina says, "It's more like an Indian collection, a bit resort-y if you may. The clothes are simple, flowy with a bit of tribal influence. I will also be showing a few western designs from my Spring Summer 2013 collection."
With Indian wear dominating the collection, the question that must be put to a designer who is closely associated with Western wear, is how creatively challenging is it to design desi? "Indian is very hard to make and very hard to wear!" she quips before quickly adding however that "Indian clothes give us a lot of room for creativity."
"Designing western clothes is more controlled as I have to adhere to the trends in the West —is it the return of the '60s or the '70s; what are the cuts, fabrics and prints that are popular... there is a mood board to work with," she easily explains.
Quiz her if fashion for her is more than just about making a statement and Rina avers, "Fashion is not about making a statement. Sure, there might be a few clothes that become a statement because of a few people wearing them but for me, fashion designing is about telling a story through your clothes."
So,. what's the story her clothes will be telling at the BFW? "It's a story of how complicated clothes can be made to look simple," she adds with a throaty laugh. Finally, we wonder how her definition of 'innovation' has evolved over her 15-year long career and she says, "With trends changing every three months, innovating for me is about reinventing the old and creating the new."