Even as Salman Khan's film is racing against time to meet the date, Shah Rukh Khan is trying to wind up his film to meet the deadline.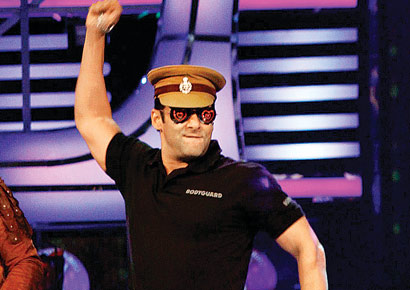 Ever since Salman Khan hit a jackpot with his Eid release Wanted in 2009, the festival has become synonymous with the star. The super success of his Eid release — Dabangg (2010), Bodyguard (2011) and Ek Tha Tiger (2012) have only cemented his monopoly at the box office on that day. However, this year there is a strong buzz that Sohail Khan directed Mental (earlier titled Radhe) starring Salman will not make it to the finishing line on time.
This has excited other actors who now want to claim that Big Day. Word on the B-Town street is that Rohit Shetty's Shah Rukh Khan-starrer Chennai Express is hurtling fast to meet the Eid weekend deadline. The only hitch at the moment seems to be Deepika Padukone's dates. But the team is trying to work that out.
Trade analyst Komal Nahta says, "So far there is no confirmation or denial from Salman's side about the Eid release. It will be a close call. Salman's film with Sohail has just started. It will be a real race against time for them to make it for this Eid. Chennai Express was looking at an August or October release, but no date has been announced yet."
Meanwhile, Ekta Kapoor has decided that her Akshay Kumar-starrer Once Upon A Time In Mumbai Again will do so. Tanuj Garg, CEO of Balaji Motion Pictures confirms, "Once Upon.. is a strong brand, and we had decided the date two months ago. Who else is releasing films on that date was really no consideration."
Komal adds, "So while Akshay's film is confirmed for Eid, it all depends on Salman's film now. The clash will be between Akshay and Salman or Akshay and Shah Rukh."