The movie 'Jal' which centers around Purab Kohli may have received mixed reviews from critics. But, actress Saidah Jules who features in the movie as a documentary film-maker is upbeat about the film's performance. In a conversation with Vishal Manve, she talks about how Bollywood happened and why Shah Rukh Khan is her favourite star.
1. Tell us a bit about your journey while shooting for 'Jal'?
It was a very surreal experience as the movie is an emotional narrative. Shooting was tough as the weather was arid and we were holed in a desert for two months and were cut off from the main world with no means of communication. It is a movie about battle for power and water is symbolic of that struggle.
It is my first lead role and I would not barter this experience for anything else.
2. What are your future prospects and projects?
I have done small roles in movies like 'Pyaar Impossible' which have been uber and glamorous. But in Jal, my character was someone real and relatable. There's not even an iota of makeup and its all rustic and real.
It is the first time when people came upto me and said, "you can perform too". It was a great experience as I have been involved in theater for long. I have a film called 'On the ramp' with Ranvir Shorey right now.
3.How did Bollywood and movies happen?
As far as I remember, I always wanted to be in films and progression from theater to films was a natural journey. I want to be know as a performer and not just a glamorous face.
I have performed at Kala Ghoda art festival and trained under Anupam Kher at his acting institute for a short period of time.
4.Do you think there is any bias towards foreigners in Hindi film industry?
I don't compare myself to foreigners as I have lived in India since childhood. To be successful here, you need to understand the culture and be a part of the fabric of society.
5.What kind of roles are you looking at?
I can't obviously play Umrao Jaan or other roles that have certain requirements but I am open to offers to experiment and deliver as much as my potential allows.
I am into the process of movie-making and want to get into pre-production and production stages too.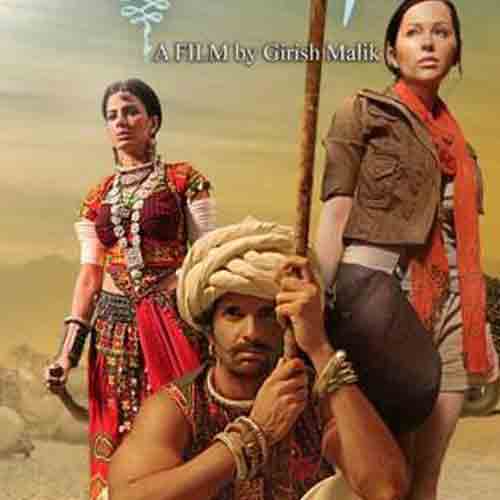 6.How was it working with Purab Kohli?
He is a very capable, hard-working and professional actor. He rehearses a lot before enacting a scene which is great.
7.Whom do you admire in Bollywood?
I met Shah Rukh Khan some time back and must say that he is endearing. He has seen so much in life, yet remains so grounded and humble. I like Aamir Khan's theme based films and would like to work with Anurag Kashyap too. I love their body of work.
8.From the current crop of Bollywood actors, who are your favourites?
Kangana Ranaut is amazing with what she does. I love her work. Ranbir Kapoor is talented and has silenced his critics with a great body of diverse work.
Sonam Kapoor has been going strong too and has done a great job with her career.
Watch the movie trailer here: