The actor will be sporting a different look for his upcoming action thriller.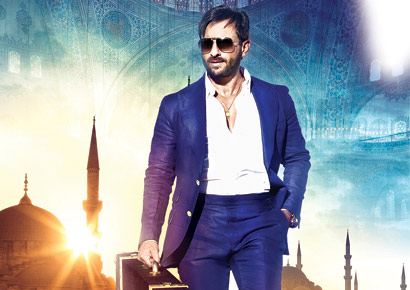 Actor Saif Ali Khan was seen raising the bar with his well-toned look in the spy thriller Agent Vinod early this year. And now, he is hoping to take it several notches higher in his upcoming action flick Race 2. Insiders reveal that for his role in the Abbas Mustan thriller, not only has Saif worked towards a more ribbed and leaner look, but he also worked on getting a deep tan.
The actor apparently also lost around 10 kilos for the role. "Saif had bulked up for his last action film, but to maintain a sense of continuity from Race, he lost around 10 kilos. He looks leaner, but more ribbed," shares an insider. Also, the intense action in the film required a lot of harness training, so he needed to work out a lot to prepare for it," adds the insider.
Confirming this, creative producer of the film, Jay Shewakramani says, "Saif will be sporting a completely new look in Race 2, which is different from anything he has done before. Not only in terms of his physique, but also in styling. He will be seen wearing gold chains and a gold watch and he will sport a deep tan."
Talking about the hard work that Saif put in for the role, Jay shares that Saif followed a strict regime that included getting tanned on a beach in North Cyprus.
"He usually began his day early, spending an hour on the beach catching sun for the tan. Then he hit the gym for an hour where he did some heavy workouts, before reporting on sets. He would even tan himself in between shoots and during lunch. In addition to all this, he followed a strict diet and ended his day with an hour-long yoga session," adds Jay.
According to producer Ramesh Taurani, Saif is looking his best in the film. "He took interest in styling his look and shared his inputs, even for his 'gold' look. He was extremely professional and took it all very seriously," he says.
As for going the extra mile for his look in a film, Saif had earlier said that as an actor, looking the part is just as important as acting it out on screen. "Half the work is done if you look the character you play, so I don't mind putting in that extra bit for it. I take it as part of my job."