India's first footwear designer Rina Shah on falling in love with polo and becoming the country's first woman polo team owner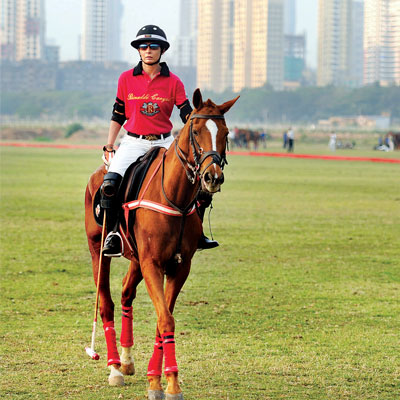 At some point in our lives, we've all wished we'd find a lamp with a genie inside. Then we could just ask the genie for whatever we'd want. Well, Rina Shah is a lot like a genie, but one who has the power to fulfil her own wishes. All she has to do is desire for something, and she gets it. At least that's how she makes it all sound. Easy peasy! From being India's first shoe designer to now being the first woman in the country to own a polo team, the lady, who is — but doesn't look — 40, can teach you an important life lesson: That you can be whatever you want, whenever you want!
Heels to hoofs
Three years ago Rina watched a polo game for the first time. By then, she had been an athlete, a bharatnatyam dancer, a kathak dancer (she has degrees in both dance forms), played the piano, a footwear and accessory designer, and a few more things in between. "It was one of the most exciting games I'd ever watched," she tells about the first time she watched polo live. "I was like 'wow, this is really cool, I should give it a shot'." Rina had to start from first learning how to ride a horse. "It took me a year, morning and evening, to learn riding. When I got a little decent, I took a trip to Argentina for basic training in polo. I played a little after that in India before heading to UK for more training. I also spent some time in Jaipur, picking up the nuances of the game. It's been two years since I started playing," narrates Rina.
Discounting the odds
She cantered onto the polo scene at 38. It's a game, few people play in India, as few as a 100-150, and male-dominated. She admits, "I am shocked too, that I am playing the game. It's very odd for a woman at 38 to take up a sport, especially in India. But I am never afraid of taking up a challenge, which is why I succeed, or at least go somewhere far. I never think 'what if I can't do it'. If you are really adamant on finding a way, you always will." It's a path Rina has walked before, when she set up her footwear brand at 25, after completing a course in footwear designing from FIT, New York. "I was entering a male-dominated market, ruled by Aghakhanis, with no prior experience of manufacturing. To set up a whole manufacturing unit wasn't easy. You know, sometimes when I look back, I go, 'God, did I do this'? It's just the strength in my mind or my heart," Rina confesses.
Living polo, on the field and off it
A year-and-a-half ago, Rina pulled down the shutters on her 12-year-old store even as concerned friends insisted that her decision would be detrimental to her brand. But Rina says, she had to make a choice. "Now is the time when I can fulfil my dream to travel the world and play polo. For that I need to reach a level where I can ride any horse." She sure seems to be well on her way. Last week, her polo team played and won their first tournament. As for her creative outlet, she says, "I still design and manufacture shoes. Also because of polo, designing a line, which is horse-inspired, came so naturally to me." Among her polo-inspired collections are rare bags that Rina designs from vintage equestrian scarves. "I pick them up at auctions all over the world and convert them into bags," she says.
Her next itch
After the polo tournament in Mumbai, Rina is headed to play the game in Bangkok in April. But before that is a stopover to a surfers' destination for this self-admitted sports junky. "Whenever I have free time, I don't like to sit idle on a couch and watch TV. Every birthday, I give myself an adventure. So, there's been sky diving, Formula 4 car racing, and last birthday it was surfing. I want to do more of it," she tells us.
One grand plan
Rina says if there's anything she's planned, it's that when she turns 50, she wants to release a coffee table book on her journey. "Not to show how great I am... but there are a lot of people who have so much potential; I feel if they read about me, it could inspire them to say, 'let's try'. Maybe I won't even know whose life I changed, but even if three people feel that 'dude, if she can do it, I can too', it will fulfil my purpose."