For his first home production, Abhay Deol will be paired with Preeti Desai.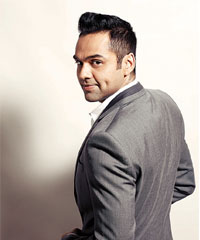 Abhay Deol is all set to romance his real life girlfriend on reel. For his maiden production venture the youngest Deol has chosen live-in girlfriend Preeti Desai. They will be paired on the screen for the first time.
"The comfort equation definitely shoots up," says Abhay about sharing screen space with girlfriend. The romcom titled One By Two will have writer Devika Bhagat mark her directorial debut with it and will go on floors from March 9. Abhay says that he's looking forward to taking a break from the darker films. "For the time being," he is quick to add. "Yes, it's actually been a while since I have done a full-on romantic film since my debut, so this should be interesting. I have worked with this team earlier too so it feels like one big family affair."
About his debut as a producer, he reveals that unlike his image, he believes in popular entertainment and that's what his films will reflect. "I know that my reputation is otherwise, but I do believe in films being massy. I don't think films can compromise on the entertainment factor."
As for the genre, he believes, "People don't think of genres anymore. The script is all that matters. And as long as it appeals to my sensibilities as an actor-producer, I'm on." He isn't worried about choosing a inexperienced director for his home production. Having worked with first-time directors right from his debut, he says the run continues. "I have always been up for risks, but only because I had full confidence and faith in the vision of my directors," concludes Abhay.