The actress is planning to auction her wedding sari to raise funds for cancer awareness and research.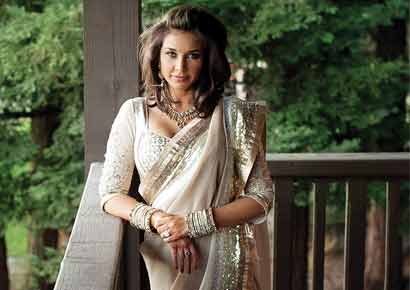 Lisa Ray, who married boyfriend Jason Dehni a month ago in Napa Valley, California, is currently in the country for her social commitments. The actress is here to launch her limited-edition line of saris designed in collaboration with Satya Paul, as well as to start a special cancer project with the India Innovation Research Center (IIRC).
Talking about designing, Lisa says it was a natural association. "I wanted to express my recent life experiences through fabric and form. The collection consists of 10 designs — five of which are inspired by my wedding sari, while the remaining are printed ones, themed on the unbreakable spirit, triumphing over the odds," says Lisa who has words like hope, faith and love imprinted on her designs as well as motifs of a phoenix rising.
For her wedding reception, Lisa wore a custom-made Satya Paul georgette sari with traditional gota-patti work, that she felt expressed how she was feeling on that day. "Like for all brides, my wedding was a joyful day but it was extra special given my cancer journey. Life has so many shades, and I think we need to embrace them and take all these changes as one experience. I really wanted my line to convey that strong emotion I was feeling," adds Lisa who's giving portions of the sales to Living With Cancer, a non-profit cancer research body started with the IIRC.
The TV show host is also planning to hold an online auction of the original sari worn at her reception with 100% of the proceeds going towards her cause. "Cancer awareness is particularly important in India as I feel it's treated almost like AIDS. There are just so many misconceptions and taboos attached to it. My passion is to keep talking about it and encourage prevention," she explains. Currently, aside from working on her book which is based on her life journey, Lisa is also focusing on a special cancer research project in India under her name.
"There isn't enough research being done in this field. Considering most of the scientists abroad are Indian, I don't see why we can't have a big breakthrough from this country itself... Meanwhile, I will continue to visit India for work as well as my personal passion for the country," she says.