Rani reveals that she wants to do an action flick next; says she's happy to have teamed up with Aamir Khan again.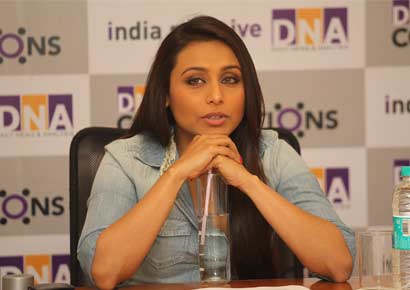 Recently, actor Rani Mukerji was seen playing a quirky role and will now be doing a starkly different, intense role in her upcoming film. "That's the idea. It's important to constantly keep reinventing myself as an actor each time I come in front of my audience. They are seeing me for the past 17 years, if I don't give them something different, they will get bored. And it's important for me too, so that as an actor I don't get bored either," says Rani. In a tete-a-tete with After Hrs, the actor also talks about her equation with the Khans and competition…
How was it working with Aamir Khan again?
Aamir and I have become such close friends that this time when I worked with him, I found it strange to be mouthing dialogues with him. All this time, we've only been meeting as friends, so suddenly when he comes in front of you as a co-star, you are like 'Oh my God! You are working with Aamir Khan'. I still feel that, because I started my career with him and Shah Rukh (Khan). I've always looked up to them and will continue to do so even years later.
How's the equation on sets…
Shah Rukh lets me do my masti, but Aamir becomes very serious on sets. They are like school teachers to me on sets. But off sets, it's like they have seen me grow and they are extremely proud of me in the same way that my parents are.
After doing films where you're the central character, how comfortable are you playing the second lead?
When it is with heroes like Aamir and Shah Rukh, it's justified na, because I started my career playing second to them, so doing that today doesn't matter.
Do you think heroes have it easier…
I just think it's the way society is… kind of male-dominated. The first day first show audiences are mostly men, the trend won't change and they will be inclined towards certain kind of films. That won't change till women don't take the initiative to become a first day first show audience.
Several actresses today talk about doing films with the Khans. You have always done that…
It's a small industry and people are bound to work with each other, so if people want to talk about that being a high point then it's their call. For me, that's not what I consider competition.
What are you looking at next…
I would love to do an action role. That would be fun.