The actress sang the birthday song on the BJP's PM candidate's birthday on Tuesday.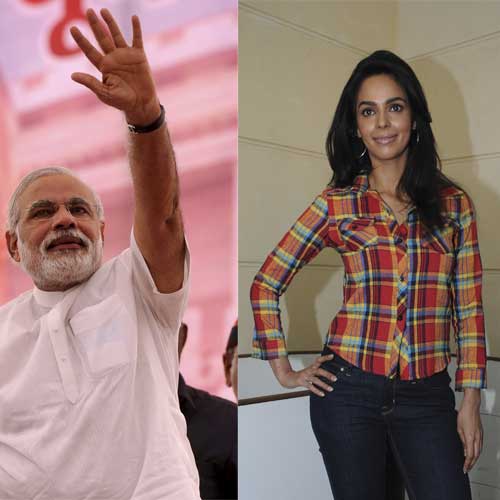 Mallika Sherawat recently said Narendra Modi was India's most eligible bachelor. On the BJP PM candidate's birthday on Tuesday, the actress took her admiration for the leader a step forward.
The Murder actress who is set to be seen in the Indian version of The Bachelorette called The Bachelorette India which will be aired next month sang happy birthday to Narendra Modi.
On Modi's 63rd birthday, Mallika Sherawat released a video birthday wish in which she says, "I want to send a birthday wish to the most eligible bachelor in India. Happy birthday Narender-ji, Happy Birthday Narender Modi-ji."
Here is a video of the actress singing the birthday song for Narendra Modi:

The actress tweeted this video saying,
Here is my most special birthday wish for @narendramodi ,the most eligible bachelor of India #BacheloretteIndia http://t.co/oR3WoDh3br

— Mallika Sherawat (@MallikaLA) September 17, 2013
Guess Mallika Sherawat doesn't know that Narendra Modi is not a bachelor and is very much a married man.
This made many wonder if the wish was genuine or just a publicity stunt ahead of her upcoming reality show, making the most of the Narendra Modi wave sweeping India at the moment.
Here are a few Twitter reactions to Mallika Sherawat's birthday song:

So acting AND singing are vocations not meant for Mallika Sherawat. And after this performance, politics is a close third.

— Sneha Mahale (@randomcards) September 17, 2013
What !! Mallika Sherawat is crooning for NaMo's birthday. Hope Poonam Pandey is not in the mood for competition

— shammy baweja (@shammybaweja) September 17, 2013
Mallika Sherawat manages to sing even Happy Birthday out of tune. That is how talented she is

— Naomi Datta (@nowme_datta) September 17, 2013
Don't have a problem with Mallika Sherawat singing NaMo Happy Birthday. My real problem is… HOW THE HELL do you sing Happy Birthday wrong?!

— Rohan Joshi (@mojorojo) September 17, 2013
Mallika Sherawat singing for Namo has just ruined Birthday's forever!

— #ish (@socialmunky) September 17, 2013
Amitabh bachan is out Mallika Sherawat will be next brand ambassador of gujrat #FekuDiwas

— Musab (@mushu20) September 17, 2013