Pentagram's new music video shot by Marathi filmmaker Ravi Jadhav will show the band crowd surfing through Ganpati Visarjan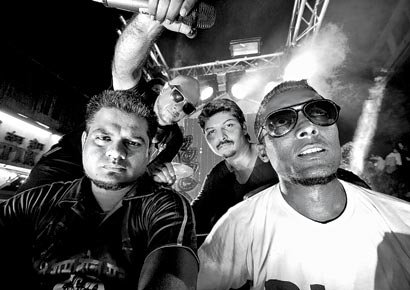 Mumbai-based electro-rock band Pentagram are all set to release the debut video of their track Tomorrow's Decided (from their fourth studio album Bloodywood) at Mehboob Studio. The four-member band – comprising Vishal Dadlani (vocals), Randolph Correia (guitar), Papal Mane (bass) and Shiraz Bhattacharya (drums) – will also be performing at the event this Sunday.
We catch up with Vishal as he lets us in on more about the video:
Tell us about the concept of the video?
It's in keeping with our album Bloodywood – the urban sound that defines who we are, where we're from, what we're about. Living in Mumbai is full of different experiences. The video shows the energy and happiness of the city, the openness of the city.
Why did you decide to shoot during Ganesh Visarjan?
Well, it's the most definitive party in Mumbai. The song is about a mental revolution and we've taken that through the context of this happy festival where the city is celebrating together. It's reflective of the ethos of Mumbai that we really did need to have that. The song was written with the energy of the city... It was utterly magnificent.
So you crowd surfed during Ganpati Visarjan...
That was pretty special. These were not the guys that regularly come to Pentagram shows. When I fell back, they held me up — it's the spirit of the city, or what it should be.
What's the message you're trying to convey through the song?
The idea was not to be preachy. The song is about each individual finding the strength to change his mindset — Pick up the stone from the earth of your mind, and throw it, throw it. Fill up the bottle with the flames of thought, and blow it, blow it up... It's like a riot, but of the mind. There's been a concerted move to squash the freedom of speech. And we must address it without getting mopey about it.