On a five-city tour, the band that fuses Indo-Western and capella will be singing new covers in Mumbai, New Delhi, Bengaluru, Hyderabad, and Pune.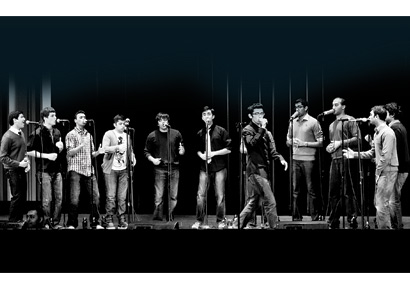 Penn Masala is currently on a five-city India tour where they'll be singing new covers and giving a sneak peek into their upcoming album. Penn Masala will be performing in Mumbai, New Delhi, Bengaluru, Hyderabad, and Pune. The band members include Akshat Vaidya, Sam Levenson, Ram Narayan, Varshil Patel, Akiff Premjee, Rohan Murthy, Dilip Rajan, Dhruv Maheshwari, Ashwin Muthiah, Anil Chitrapu, Prashant Ramesh and Chetan Khanna. We chat up with Sam Levenson and Ram Narayan...
How do you define your style?
Our credo is the marriage of Indo-Western fusion and a cappella. Our first big break was when we did the soundtrack of American Desi and impressed Kal Penn and Bollywood. Since then we've performed on stage with the likes of AR Rahman, Sunidhi Chauhan, and performed for US President Barack Obama, Mukesh Ambani, UN Secretary-General Ban Ki-Moon, Lakshmi Narayan Mittal and others. We've got our sights on Bollywood next.
Who do you cite as your musical influences?
Our inspirations include the greats like AR Rahman yes, but also lately include Coke Studio artistes, Pakistani artists, Amit Trivedi and many other independent musicians. We're also proud to finally start including regional music with lots of influence from Bengali rock, and other languages such as Malayalam and Sanskrit.
Any Indian artistes you'd like to work with?
We'd love to collaborate with Rahman!
You performed for Barack Obama as well... what was it like?
We performed at the White House both for a Diwali celebration and a bill-singing which concerned the Asian-American and Pacific Islander community. It was indeed very special.
Why the name Penn Masala?
Four close friends founded the group in 1996 at the University of Pennsylvania. Led by Naveen Wadhera, these guys were passionate about finding a way to combine the important musical influences — both the South Asian music they had grown up on and the popular Western music that they listened to regularly. A cappella was already a popular form of music/performance on college campuses and they saw in that some real opportunity.
The group debuted at the South Asia Society's Diwali Cultural Show at Penn the following fall and sang Gore Gore Mukhde Pe Kaala Kaala Chashma. Within two years, the group had recorded two songs and performed at large events including the Bhangra Blowout in Washington DC. The name Penn Masala was not the first name for the group but it was the one that stuck. Like any group early on, Masala cycled through a number of temporary band names before settling on Penn Masala.
When & Where:
Tonight at Hard Rock Cafe, Worli