In his calendar B-Town's fave lensman Dabboo Ratnani has presented her in a never-seen-before avatar.
This is the first time Parineeti Chopra has featured in Dabboo's annual calendar. The lensman has with one shot made the YRF girl look sexy. "No one has ever shot her like this, either in films or photographs. She has always come across as tomboyish, more fun and peppy rather than sensuous. She was initially apprehensive about whether she could pull it off and worried about people's reaction," he says.
However, the photographer, who has shot all the Bollywood A-listers convinced her. "I told her not to worry and just give a beautiful shot. She agreed and went along with my idea, and the result is beautiful. There's not much skin show, neither it is in-your-face-sexy. I could have had her smiling and made it a wild, fun shot, but I wanted to keep it in the sensuous zone," he says.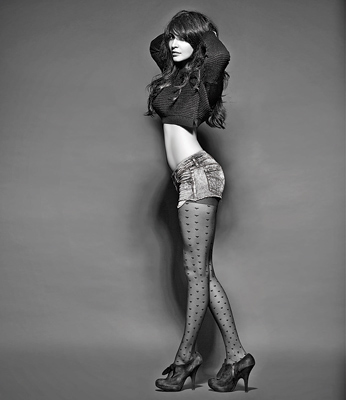 Dabboo chose to shoot Anushka Sharma, the other YRF girl, in black-and-white. "The idea was to make her look casual and sexy at the same time. There is a lot of mid-riff and legs showing, it's more like a fashion picture but not over-styled. Anushka is playing around and it's almost like a candid picture. She has a great body and body language. She is simple and effortlessly sexy, which is exactly what I wanted to capture," says Dabboo.
Alia CopyCat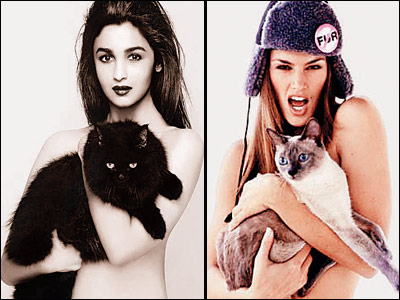 Cindy and Alia have one more thing in common. They are both Maybelline girls.
Alia's Bhatt's photograph in Dabboo Ratnani's calendar is inspired by Cindy Crawford, supermodel in the 1980s and 1990s. The photograph of her holding the cat was part of an anti-fur campaign. Cindy has graced hundreds of magazine covers like Vogue, W, People, Harper's Bazaar, Elle, Cosmopolitan, and Allure. Apart from being part of many fashion campaigns including Gianni Versace, Escada and Revlon.