The singer said he was around if Swift wants a date.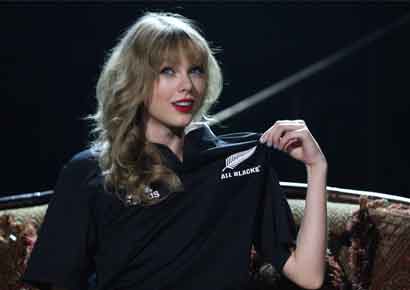 Owl City singer Adam Young is "around" if Taylor Swift wants a date.
The Fireflies hitmaker has had a crush on the country superstar ever since Taylor wrote the track Enchanted - which was included on her 2010 LP Speak Now - about him.
Now Taylor has split from her boyfriend Conor Kennedy, Adam is hoping the two can go out.
He told Blunt Talking, "She's got a lot of people at her doorstep. I just try and stay off the radar. I don't wanna force anything, but I'm around."
The 26-year-old musician is still "honoured" that Taylor penned a track about him for her multi-platinum selling third album because the song showed him that he was an important person in her life.
He said, "It's cool to know that an artist such as Taylor, who is very open about the fact that she writes songs to deal with her life and to be a part of that is a very cool thing. It's a very sweet song. I'm very honoured."
Although he is popular with the ladies since becoming a pop star, Adam - who collaborated on Good Time with Carly Rae Jepsen - Adam admits he couldn't find a date for his high school prom.
He said, "I definitely couldn't get a date for the prom both years in high school. I guess I didn't really go around trying too hard. I was sort of weighing my options between the girls I was interested in that I was sure weren't interested in me, and those who I maybe could have gone out with and I was like, 'Maybe I'll stay at home and make music.' "
To see the full interview with Adam, visit www.youtube.com/user/blunttalking