The famous toy company and cartoon series both created their respective versions of that most re-tweeted image.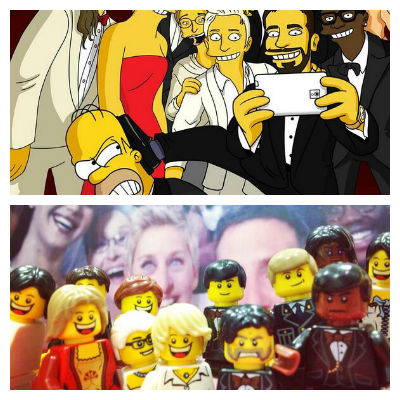 From memes to many re-creations, the famous Oscar selfie that became the most retweeted tweet now has multiple animated versions. Both Lego and The Simpsons have created their own versions of that famous picture.
With Meryl Streep, Julia Roberts, Bradley Cooper, Jennifer Lawrence, Brad Pitt, Lupita Nyong'o and Kevin Spacey among those in the selfie with Ellen DeGeneres, the tweet got 1 million RTs in an hour. The tweet thus broke the record for the most RTs in Twitter history.
The Simpsons creator Matt Groening shared a cartoon version of the famous selfie that shows Homer Simpson getting booted out of the frame. The image also created a buzz with many fans going gaga over the cartoon.
In the cartoon version made by Groening, picture-taker Bradley Cooper pushes the back of Homer's head away with his heel while the other stars smile behind him.
Here's the tweet that was posted to the official Homer J. Simpson Twitter account,
The ugly true story of that Oscar® selfie can finally be told! Let's break Twitter again. Look for Bart. pic.twitter.com/tdfr3Juhff

— Homer J. Simpson (@HomerJSimpson) March 5, 2014
Groening's cartoon shows Cooper, DeGeneres, Lawrence, Streep, Channing Tatum, Julia Roberts, Spacey, Pitt, Angelina Jolie, Lupita Nyong'o and her brother, Jared Leto who barely squeezed into the original selfie is clearly seen in this wider framed cartoon.
The cartoon version also included Homer's son Bart with only the top of his head visible as he flashed horn fingers behind cartoon Streep's head as he is seen at his naughty best.
Jared Leto tweeted his reaction to the selfie cartoon with this tweet,
I've officially joined @TheSimpsons! #oscars pic.twitter.com/Q2i0SBEuiZ

— JARED LETO (@JaredLeto) March 5, 2014
The Legoland Discovery Centre Manchester also shared a photo of the toy version of the selfie on Twitter. Here is their version,
The real #Oscars #selfie…sort of #Oscars2014 @ellenDegeneres_ pic.twitter.com/PNSFiN1VXJ

— The LEGO Group (@LEGO_Group) March 4, 2014
Looks like the Oscar selfie fever is refusing to die down, with more and more innovative recreations emerging almost every day.