Imran Khan and Anushka Sharma let go of work-worries and chat up with After Hrs...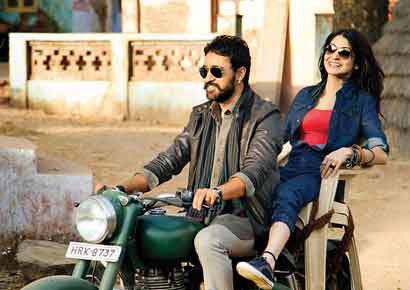 It could have been an act but we'd like to believe that Anushka Sharma and Imran Khan were just being themselves when they sat down for an interview with After Hrs and spoke away about the movie (of course), dramatic men and about getting nominated as the Worst Actors of the Year at the Golden Kela Awards. Edited excerpts from the interview...
The phrase 'Meena Kumari Complex' might just become the phrase of 2013. What does it signify and whose idea was it?
Anushka: Meena Kumari complex is the definition of a certain kind of personality. It describes people who will create drama unnecessarily. My character, Bijlee in the movie is someone who creates drama when everything is going smoothly. The phrase was Vishal Bharadwaj's idea. He's written the dialogues of the movie with Abhishek Chaubey.
Imran: I actually have a friend who only dates such women.
Anushka: Forget girls, I know of men who have such a complex.
Imran, you were the third option for the role of Matru, after Ajay Devgn and Shahid Kapur. Did the general reaction everyone had wondering why Vishal chose you, leave you miffed?
Imran: I was not the third but the second actor to be offered the role. And I myself was surprised that he chose me. In fact, I even asked him if he wanted me for this film. I had no knowledge of the language, the character was completely alien to what I had done before. That's when he explained to me that casting against type was what was exciting. The role sounded exciting to me but once I took it up, I realised that delivering the role would be one uphill task, in terms of the body language I had to use, the language... I had to create a three dimensional character of Matru. Playing the role gave me consistently sleepless nights because I didn't know if I was doing it right. I remember constantly thinking through the shoot, sh**! I've made a huge mistake taking this role up.
It's quite obvious that the two of you have quite the camaraderie. As colleagues, did it reflect on your working together as well?
Anushka: For me, as an actor, the only way you are there for your co-star is when you give him/her the right cues, remember your dialogues well and have the basic ethic of being professional on the sets.
Imran: For me, a good co-actor is someone who gives you something to play off against. That way, I think we both had very good energy between us. I've worked with actors who 'act' with a capital 'A'; actors who need two minutes of complete silence on the sets to act. Unlike them, Anushka is someone who doesn't take herself very seriously. She'll cry in the scene and then get back to discussing a joke after the take.
Deviating from the film, it is quite amusing that the two of you have been nominated for the Golden Kela Awards for the Worst Male and Female actor for 2012. Do these things affect you?
Imran: (feigning ignorance) Golden Kela Awards? What are they? And which movie have I been nominated for? Anyways, I don't take the other awards themselves seriously so I am not going to bother about this either.
Anushka: I love those guys! They have constantly nominated me as the Worst Actress for the last five years. I love that they are loyal to me but I am disappointed with them because I have never won an award yet. That said, these awards are given away for fun so one's got to take it in that spirit.
Finally, looking back and looking forward, what would you remember about 2012 and what about 2013 excites you?
Imran: Frankly, 2012 has been a miserable year. A lot of great people — from Shammi uncle to Yashji, Pandit Ravi Shankar passed away this year. In fact, Bobby Singh who's been the cinematographer for movies like The Dirty Picture, Life in a Metro and Special Chabbis died on Tuesday. We've lost a lot of industry people this year. I hope 2013 is a good year. I have got hopes for Matru Ki Bijlee Ka Mandola. We've put a lot of blood, sweat and tears into it.