Inspired by her new video, the singer-actor has come up with a new application.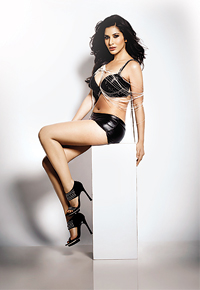 After the recent success of her new single and video Hungama Ho Gaya, singer-actress Sophie Choudry has come up with a great idea for her fans.
She is going to create a video game on a social networking site, based on her song. The game called The Breakup Room, will have a tag line — Get done with your ex, move on to the next!
A source reveals, "The game will require someone to upload a picture of your ex and you can smash the picture into pieces. After which the game tells you how much time you took to 'get over your ex'. The concept of the game came about after the success of her video online. The video shows how a girl needs to move on after a break-up and have fun. People are loving the opening sequence where Sophie smashes her boyfriend's car windscreen! Sophie heard their feedback and with her team decided to create a gaming application unlike any other.
On asking her about the same Sophie says, "We have got such amazing reactions for my video, especially from girls. They love the strong, bold video and all wish they could get back on their ex-boyfriends the way I have in the video. Hence my team and I came up with this very cool idea where people could experience shattering their ex's belongings virtually. While I'm creating hungama with the song, everyone out there can be an even bigger part of the hungama thanks to this game."