One of the brains behind the 'Skirt the Issue' drive, Bangalore-based Adithya did not let the thought simply wander away; but actually wrapped a skirt around and strutted the streets.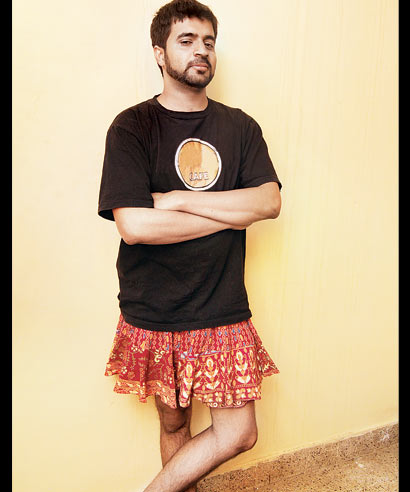 Will I get raped if I wore a skirt and roamed the streets?" was the question that Adithya Mallya asked out loud one evening while chilling with his friends. The discussion was triggered by the many remarks being made by leaders about the dress code of women after the Delhi gang-rape case.
Adithya did not let the thought wander away; he decided to wrap a skirt and strut the streets. "I wanted to show people that if a guy won't get molested if he wears a skirt then a girl shouldn't too," says Adithya, a 25-year-old Bangalore-based professional and one of the brains behind the 'Skirt the Issue' campaign. In the campaign, they have asked men to wear a skirt today and go about doing their work.
"It's not a rally or a protest. We want men to do all their routine things in the same way but only while wearing a skirt," says Samarpita Samaddar, co-organiser of the campaign. Adithya says it's not necessary that only men in Bengaluru should do this. "Wear a skirt wherever you are. In any part of the country, wear a skirt to show support towards women," he says.
Both youngsters used the social media to spread the word about the campaign and were pleasantly surprised that there were takers for it. "A guy from Singapore would go to a brunch wearing a skirt. Another in Kochi will attend a wedding in the skirt and would also click a picture and put it up on his Facebook wall!" says an excited Samarpita.
While they want men to wear skirts, they stress that they should not just stop at that. "Tell as many people as possible that a piece of cloth does not cause rape. Tell them that blaming a woman for being raped is just horrific," says Adithya.