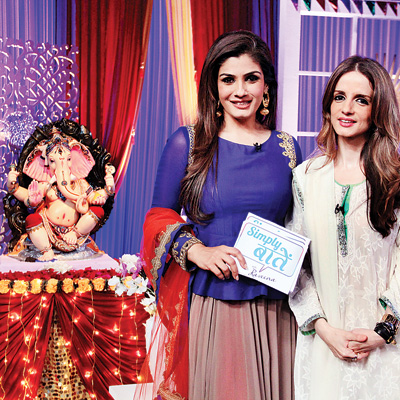 Sussanne Khan - yes she seems to have dropped Roshan from her surname and reverted to her maiden name - will be the first guest on Raveena Tandon's upcoming chat show Simply Baatein. It will have Raveena addressing issues under a collective umbrella of 'womanhood' with fun, frolic and expert advice from the celebrated personalities of their fields.
The first episode on home décor will have Sussanne giving her gyan on interior designing that she specialises in. However, before she agreed to be a part of the show, Sussanne had a couple of stipulations. Says a source, "She made it clear that there will be no questions related to Hrithik Roshan. Secondly, she wanted to be addressed as Sussanne Khan.
She was willing to talk about her parents and children and of course, home because that's what the episode was all about." The same episode will feature Shamita Shetty who is also into interior designing.