The effervescent Niharika Bhasin Khan opens up on her prolific career and sibling rivalry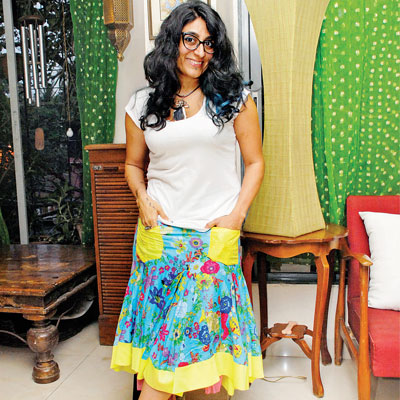 She started her career with Khoya Khoya Chand and caused a style mayhem of sorts with Rock On!! and Band Baaja Baaraat. Half-Punjabi and half-Parsi, Niharika Bhasin Khan is a bundle of infectious energy and perhaps most of it is easily passed on to the iconic and memorable characters she creates in films. And mind you she's not just morphing the protagonist's look but also the looks of the 200 odd extras around. From the spikey hairdos to the tiger mustachios to the footwear in a film scene - everything is debated, dissected and edited.
Her vibrant living room draped in green shimmery curtains emits an earthy Parsi joie de vivre and Punjabi energy. Her assistants are in the other room going over looks. She attends frantic calls, directs the assistants and answers my questions - without looking even remotely hassled.
Stature of a stylist in India
"Before Dil Chahta Hai, we weren't offered to style films completely and that happens even today. People are surprised when I turn around and say, 'I'll do the whole film.' You have to look at the film in entirety – from frame to frame. I need a perspective on what everyone is doing and wearing. I think people are still not used to that. From men on the street in a scene in the backdrop to a waiter walking into a shot – every detail makes my film. When people look at costume design they look at it from a standpoint of a period film. We have come to a point but we still have a long way to go. But it is an exciting point. It's thoroughly exciting for me to build every character and not just the main character. Delhi Belly, for instance, had a lot of secondary characters."
"If I have 400 extras then I have to get each one's hair and make-up right. For Bombay Velvet, each look has been thought of before hand. If we get to the sets at 3 am, they are standing at 4.30 am with hair and make-up done and I'm saying, 'yes, yes, no, no, too much blush, why is he wearing rubber chappals?'" she adds.
Mix and match works for me
"I don't dress in Manish Malhotra or Rohit Bal everywhere I go. Unless I'm a marketing person for Rohit Bal, I'm not going to wear it every day. I like to mix and match. I do make jewellery but there are times when I want to wear other people's jewellery too. In India we are now open to brands. Brands offer you press samples. I'm a costume designer and I want to stick to it. I don't do appearances because I find it cumbersome and intrusive to the work I do. I'll always work with Hrithik or Arjun Rampal because I have a rapport with them. With Hrithik, I put his closet together so it's like 'you wear this, you wear that.' He's easy. Like Huma (Qureshi) calls me (even though she's a friend) for styling inputs, I don't know where to start."
Films I'd have loved to have style
"The Great Gatsby, Goliyon Ki Raasleela Ram-Leela – the visual beauty of it. I'd love to do Yeh Jawaani Hai Deewani."
Period films never have budget
"We have a huge budget but it's not significant enough. If I have 400 extras and I need to change their looks everyday and each costs Rs 500 then just calculate the cost. How much is 500 bucks buying me for a person - a hat, a pair of shoes, a cane – I can't and that becomes the issue. In Indian films you are always willing to pay for your main actor but not the rest of the film. I always feel I'm not having enough budget," she shares.
Travails of styling
"In The Dirty Picture, Vidya and I had to reach that balance. She was like, 'You can't make me look like a slut' and I said, 'Trust me, I won't make you look like a slut.' Then what if DoP lifts the camera? So I have to convince the director and the DoP, Production designer – if they are liking it. It's a lot of interactive fun If she is a gaav vaali then I can't put her in a Rohit Bal or Anamika Khanna. If I'm not understanding it, I can't convince my audience."
Inspiration
"I'm walking on streets and taking photographs of people, hiking in Manali or Dharamsala and taking pictures of people from the back. I'm like, 'I like this silhouette and I'll use it somewhere.' I'm not a computer user and I'm more of a 'let's sit in a coffee shop and observe people' kind of a person."
Sibling rivalry
Niharika's brother Arjun Bhasin is one of the most respected names in the fashion and film firmament and I can't help but ask about the rivalry between the siblings.
"He got Delhi Belly and he couldn't do it and I'm really grateful because it's one of my fave films. He always says, 'You stole my life, you stole my career.' Because he studied fashion in New York and I came here as a fluke. I feel that someone didn't want to pay Arjun the money and was like, 'let's try her out'. First time I met Sudhir Mishra, I said, 'Sir I'm going to f*** up the film' and he turned around and said, 'Hire her! At least she tells the truth.' Arjun and I keep seeing each other's work. He called me post The Lunchbox and appreciated it. Sometimes he does presentations for me. I can never do what he does. He has seamlessness in his work which I don't have. There's a crazy Punjabi colour to my work which he doesn't have. I think he's more of the Parsi side and I'm more Punjabi. I'm definitely more adventurous. Also, because I have not studied fashion, I had to prove that I am a costume designer. He never had to prove anything to anyone. He does the same kind of work – The Reluctant Fundamentalist, Life of Pi, The Namesake, Monsoon Wedding – all have a synergy. Mira Nair and Zoya Akhtar will always work with him. We've never rivalled over a film. I call him sometimes and ask how was the experience and he'd say, 'Don't work with them, they don't pay.' He is much younger than me which he hates admitting," she laughs.
Being a single mother
"I work out of my office downstairs. My elder daughter has gone to boarding school. If you see my films till now, I have not done anything which has taken me out of station unless it's summer. Band Baaja Baaraat was a summer in Delhi and Kai Po Che! was a summer in Gujarat. It's a huge challenge but my kids know that I love to do that – they are now 13 and 10. They give me a leeway. I have a great support system – I call them my five girlfriends – Amit Sadh, Gaurav Pandey, Tahir Bhasin, Gautam Thakkar and Taranveer."