She spoke to DNA on telephone before she went in for her press conference in the Capital, sounding relaxed and energised.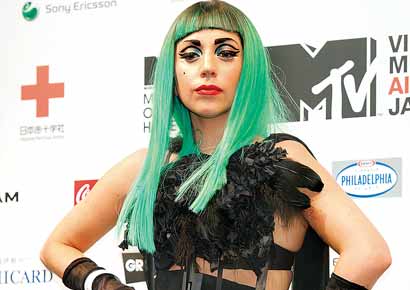 Pop/rock priestess Lady GaGa is at present in Delhi. Her influence on popular culture cannot be underestimated, the 25-year-old is arguably the most followed on Twitter globally, pin-up princess of the new media. Some would say her popularity in the music world is unrivalled at present, she repeatedly takes top slot on lists of most powerful celebrities in the world. Buzz is, the tickets for her F1 after party performance on Sunday (priced at Rs 40,000)  are already sold out. To decode the phenomenon that is Gaga is a tough task — best leave it to the Lady. She spoke to DNA on telephone before she went in for her press conference in the Capital, sounding relaxed and energised.
Is this your first visit to India? What are your initial impressions?
This is my first time in India and I'm so excited to be here. Everyone has been hospitable - warm and welcoming, and I'm looking forward to my first walk out in India.
How long is your trip here going to be, are there some places you particularly want to see?
I'm here till Sunday, actually, and I'm hoping to return again too. I want to connect with the people of India, visit the local places…
Are you familiar with our film industry, Bollywood?
I've watched a few films, I'm hoping to watch a few more…
Are you familiar with our stars, would you want to meet some of them?
Yes. I have met a few, and I wouldn't name them because I don't want to seem presumptuous, but I feel very blessed to be here. Everyone here is so beautiful and kind, I never dreamed I would be fortunate enough to be in India to perform.
Would you act in a Bollywood film if you were made an offer?
Would I act in a film here? Yes I would!
Would you incorporate the Indian experience in your music after this?
I'm very excited that my performance (at the F1 after party on Sunday) is going to incorporate my collaborations with Indian DJs (remixes of some of her hits by label Desi Hits).
You call your fans 'little monsters.' Do you keep track of your 'little monster' following here in India?
Yes I do. I'm very excited, when I tweeted 'Namaste' all my fans in India responded right away. I love social media, it enables me to stay connected with my fans from all over the globe and helps them stay connected with each other.
In this age of microblogging, if you were to describe yourself in one word…?
It would be 'reincarnation'…I believe in your lifetime you are born again, over and over, through music, art. You can push the boundaries of tolerance and understanding through that. So the word is 'reincarnation.'
You are spiritually inclined…?
Yes, I do love Deepak Chopra — his teachings are a tremendous inspiration.  And I'm also active in Yoga.
Your musical influences are said to have spanned a variety, from John Lennon to poet Rainer Maria Rilke. Can you elaborate on his philosophy of solitude?
Solitude is important for art. To harness and value time with self…. Reflection leads to revelation, solitude centres my morality, imagination.
Any message for your fan base here, spiritual or otherwise?
I would say be yourself, love who you are because you are born this way. Put out your energy into the universe, because dreams can come true.
Your influence/fame are huge. How do you keep it real, keep yourself grounded?
My family keeps me grounded.
Infact, you are in India at an auspicious time, Diwali is a family festival - you mentioned family…
My family is certainly the most important thing to me. They support me, give me so much love, they've never changed… how do I keep grounded - I cook my dad dinner!
You cook your dad dinner everyday?
Not everyday, but when I'm home…!