It is twenty-five years now since The Sandman debuted. I encountered it late; too late, possibly, for it to have blown my mind the way it might have if I had had access to it in 1988. Yet, as an adult by then exposed to Alan Moore's Watchmen and V for Vendetta, it was nevertheless a revelation. A writer had, for what seemed to me the first time, turned a regular series into a story about stories. Today, when I'm asked what The Sandman is about, that is what my answer is.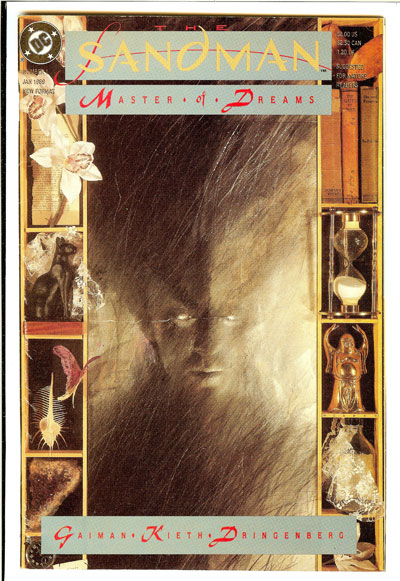 The series dwells on telling stories with a palpable glee. A number of characters take their turns as storytellers: Bette, a waitress who imagines her customers' stories, the grandfather who tells his grandson a coming-of-age tale in the desert, Robert Madoc, a novelist so driven to tell a story that he would kidnap and abuse a Muse to do it, the travellers in World's End, a Chaucer-inspired series of tales, Marco Polo and his cellmate/narrative partner, Rustichello da Pisa, and William Shakespeare himself in A Midsummer Night's Dream.
There is, of course, one overarching story arc - One Story to bring them all, and in the Dreaming bind them (with apologies to Prof. Tolkien) - which follows Morpheus/Dream/Oneiros/several-other-names as he is captured, breaks free, reclaims his property and realm, and deals with the havoc his imprisonment has wreaked on his kingdom, and by extension, himself. As Neil Gaiman put it himself, "The Lord of Dreams learns that one must change or die, and he makes his decision."
But the Big Story is not nearly as valuable to the Sandman experience as the little ones, the five- and six-issue arcs that hang off the necklace like little shiny pendants, each one catching the light in its own unique way, illuminating the life of an Endless, an embodiment of dreams and nightmares and horrors and stories, and dare to ask how gods might deal with the annoyances of daily lives. In the case of Morpheus, the answer is often "Not very well." And this is why a character as cold, withdrawn and humourless as Dream is worth our attention. This, and an amazing cast of supporting characters, both in the comic, and the people who put it together.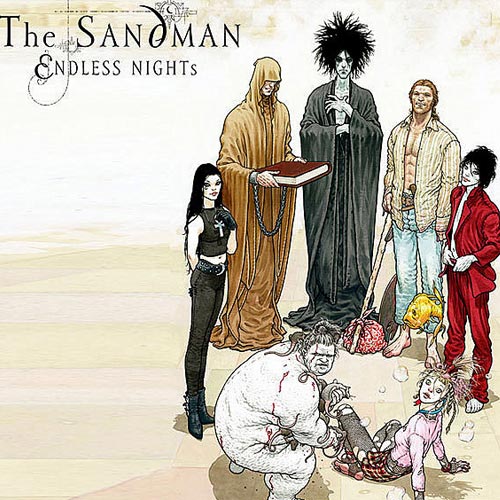 Neil Gaiman's stories are illustrated by a bevy of artists, including some modern legends such as Kelley Jones and Charles Vess, but none would be more closely associated with the visual language of The Sandman as Dave McKean. Having convinced editor Karen Berger that the title character didn't need to be on the cover, McKean would go on to create some of the most stunning cover art ever seen on comic books, working with media ranging from elaborate collages and mixed media installations to surreal experiments with photocopiers. The results would always be just right, the perfect match of eerie, melancholy, surreal and scary to go with the stories held within.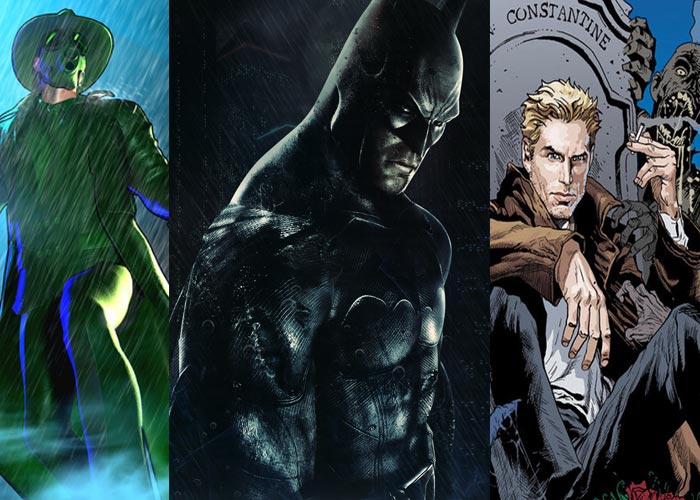 The Sandman's cast of characters is just as diverse as the scope of Gaiman's vision is large. The early issues find Gaiman dipping freely into DC Comics' universe for characters, pulling into its sphere John Constantine (of Hellblazer fame), the original Sandman, Wesley Dodds, the mad genius Doctor Destiny, and at one point, even the Batman. But once the series found its feet, no character, real or imaginary, seemed out of bounds. None, however, would capture the reader's attention and affection quite as completely as Dream's elder sibling, Death.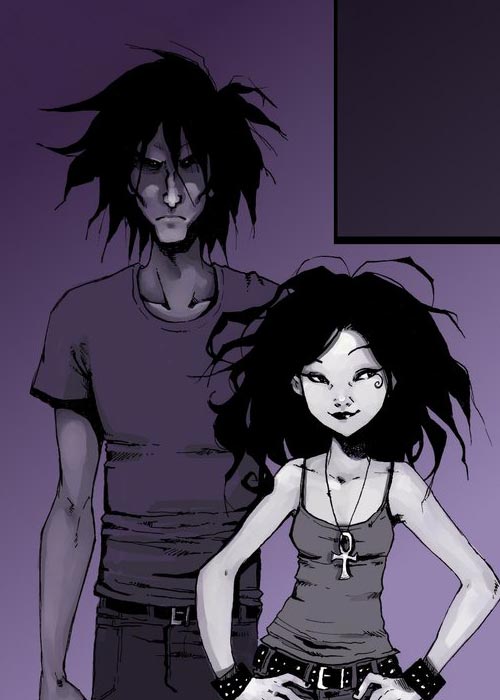 A pretty, cheerful, young woman with a preference for Gothic fashion, Death makes her first appearance in issue #8, The Sound of Her Wings, in which she attempts to cheer up her morose brother while preparing to carry a young kid, an accident victim, off into the light. The character is a far cry from the traditional scythe-bearing skeletal reaper (an image Terry Pratchett subverts to great effect in his Discworld novels, but I digress), and appears just enough to make her subtle impact on the story, as seen in the charming issue #31, in which Morpheus gives Joshua A. Norton a dream to save him from Despair and Delirium, and makes him Norton I, Emperor of the United States of America.
Joshua Norton is only one of several real-life personalities who make appearances in The Sandman. Gaiman pays visits to ancient Rome, divulging a horrific secret from Augustus Caesar's past, and to the Baghdad of Haroun-al-Rashid. A Midsummer Night's Dream (issue #19), the only comic book to ever win a World Fantasy Award, is the story of William Shakespeare's first presentation of the play, the audience being the characters presented in his play.
Gaiman has said that once he realized how much freedom he had when writing The Sandman, he decided to tell big stories about big issues. And to do so, he taps into history, classical and modern mythology, and his own extraordinary, and often twisted, imagination. The Sandman explores ideas of royalty, revenge, gender, sexuality, creativity, addiction, success, and as befits Morpheus's family, grand themes of Destiny, Death, Despair, Desire and Delirium. There is also abdication of responsibility, as embodied by Destruction, and later on, by Lucifer, and the consequences thereof. In the collection titled World's End, Gaiman channels his inner Chaucer, marooning a diverse group of characters in an inn during a storm and having them tell their tales.
Through the 75-issue run, Gaiman and the artists created a fantasy world so rich with character, variety and weirdness that it spawned no less than twenty-five spin-off series, miniseries and one-off issues written and illustrated by the who's who of the comics world. Mike Carey's Lucifer, Matt Wagner and Steven Seagle's Sandman Mystery Theatre and The Sandman Presents series had extended runs, while Gaiman himself would go on to write two miniseries featuring the ever-popular Death, Death: The High Cost of Living and Death: The Time of Your Life. Another Gaiman-authored spin-off, The Dream Hunters, a novella illustrated by Yoshitaka Amano, was nominated for a Hugo award. And now, a whole twenty-five years later, Gaiman has returned to the Dreaming.
According to Neil Gaiman, the purpose of The Sandman Overture is to tell a story he never got to tell as part of the original series: the tale of how one of the most omnipotent entities in the universe was trapped by, as Dream puts it, "petty hedge-magicking, his twopenny spell". For company in the new story (about more stories? We shall see.), Gaiman has some old friends, and one exceptional new one. McKean is back with cover art for the prequel, as is Todd Klein, letterer for the original series. The pencils are in the highly acclaimed hands of J. H. Williams III, known for his work on Alan Moore's Promethea, and his unique skill at producing splash spreads, most notably for Batwoman. Gaiman and Williams spread the pages out wide right from the start, including one startling double-page framed within the Corinthian's teeth, and close the first issue of The Sandman Overture with a unique four-page spread, a single two-feet-long image that brings Morpheus face to face with every aspect of Dream in every universe in all of creation.
And thereby, one can be certain, hangs a tale.
Related Article: 15 must read graphic novels: The Sandman, Batman: Year One, The Walking Dead, Sin City and more