Singer-songwriter Ramona Arena talks about her band Ramonasworld and their upcoming debut album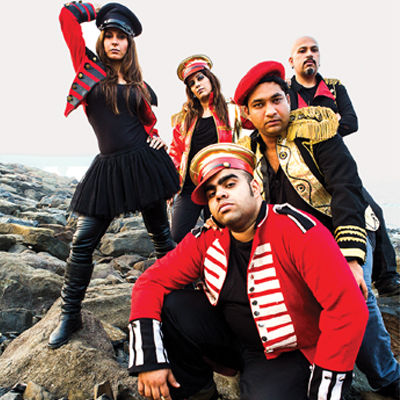 After her successful stint as a VJ, singer-songwriter Ramona Arena's main focus has been pursuing her music aspirations in recent years. In fact, she admits to becoming a VJ only to pursue music. In 2011, her previous single Feel along with Rickber Serrano debuted on the BeatPort charts. In 2012, she released her progressive track, Wanna Be Your Only Love in collaboration with DJ Anish Sood. Also, Arena is a part of the band 42! along with fellow musicians Ashutosh Pathak, Papal Mane of Pentagram, Jai Row Kavi from Indus Creed and Warren Mendonsa of Blackstratblues.
Ramonasworld, her latest band has a bunch of musicians like Sapna Desai (Shkabang) on drums, Hitesh Dhutia on guitars (Junckt), Keshav Iyengar (Brahmanaad) on bass, Jeson Mariano Jose Filipe (Gary Lawyer) on keyboards. "I have been writing songs for 13 years now and never did anything with them. I wanted to put them to use as these songs have a lot of meaning to me. So about a year ago, I asked Randolph Correia of Shaa'ir + Func that let's get an album out," narrates Arena. But why get together a band for it? "My earlier singles belonged to electronic music but of the club variety. But these songs that are going to be a part of our album need to be performed live and don't belong to the clubbing variety, and so I got together with my fellow bandmates and began rehearsing. These words resonate a deeper sense for me, as they are autobiographical. My songs are who I am," she tells us.
The untitled album will have about eight to 11 tracks and will see a release in a couple of months. The recording of the songs are done; only the mastering is pending, which will be done by Arena's friend Tyrone Fernandes in Amsterdam. Some of the songs on the album include: Released, this peppy song is basically Arena's answer to journalists to badger her to define herself in a couple of words, when there's much more to her than a bunch of words; Electrify is again a very peppy number about living for yourself, allowing yourself to be electrified; and The Separate Mile, a slow song about trying to be graceful about a relationship coming to an end.
Catch Ramonasworld as they performing live in the city this week.
WHEN & WHERE: April 10, 10 to 11.30 pm, Blue Frog, Lower Parel