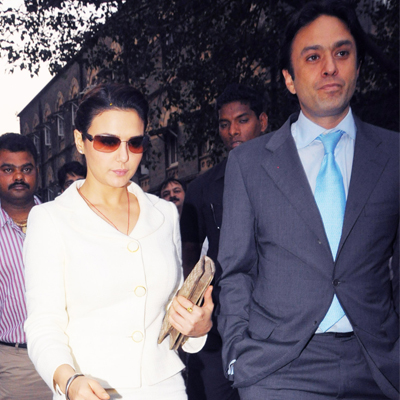 Actress Preity Zinta has hit out at suggestions that that she had filed the FIR against her former boyfriend Ness Wadia for publicity.
Zinta wrote on Facebook, "I appreciate all the people who stand by me and support me but I must confess I am genuinely surprised and shocked at some reactions from people in general. Police investigation is on so I would humbly request people to have a little patience and wait for all the facts to come out."
She also lashed out at reports of money being the factor behind the complaint, "IPL was my project from the start and for the record not only did I pay for myself (5 crores) when I got into the IPL (bid) I paid for Ness too! 5 crores! (Proof of my financial commitment in the IPL is with the BCCI). To be fair to him he did pay me back a couple of months later (without any premium) so hope the money theory is put to end once and for all."
Read her full note here:
Preity Zinta had accused Wadia of abusing her at Mumbai's Wankhede Stadium on May 30th during the IPL match between Kings XI Punjab and Chennai Super Kings. Wadia, however, described the allegations against him as totally false and baseless, and said that it was impossible for him to assault Preity Zinta, as she is always surrounded by bodyguards.
Also Read: Preity Zinta says 'very difficult' time for her, requests privacy
Bollywood actress Preity Zinta, who has accused her former boyfriend and businessman Ness Wadia of molestation and abuse, today said it was a "very difficult" time for her and requested the media to respect her privacy. "This is a very difficult time for me and I would like to request the media to please respect my privacy regarding this matter. My intention is not to harm any one but only to protect myself," she said here. Read more
Also Read: Revealed: The real reason why Preity Zinta filed a case against Ness Wadia
In February 2005, Preity Zinta and Ness Wadia went public about their relationship and made several public appearances and were seen attending Abhishek Bachchan and Aishwarya Rai's wedding with constant public display of affection. In 2008, they took their relationship to an another level and forged a business alliance by purchasing Kings XI Punjab team of Indian Premier League (IPL) together. Everything seemed perfectly fine and heavenly in the duo's relationship. Read more