...is how Amrita Puri chooses to describe her character in Kai Po Che! The actor gets chatty about her role and the whole experience of working in the movie that's being touted as a 'middle-class bromance'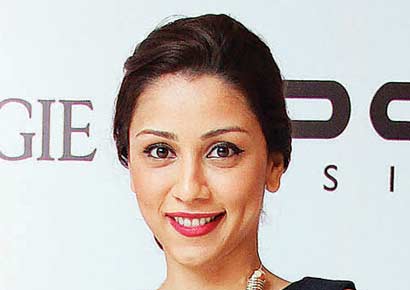 It's not guesstimate when we say Amrita Puri had fun shooting for Kai Po Che! The actor who was last seen in Blood Money almost gushes recalling her experience of shooting for this much-awaited movie.
She's even more enthusiastic while talking about her role in the film. Diving headlong to describe her character, Amrita says, "I play Vidya, who is Sushant Singh's sister and the romantic interest of Raj Kumar Yadav, in the film. She is such a feisty character, the type who leaps out at you from the pages. The movie is quite serious and has a lot of drama going on, and so, it's Vidya who brings in the masti-masala."
"You think in terms of colours or taste when you see a person, when I play Vidya I think of her as khatti like imli," adds the petite actor with a bright smile.
Considering Kai Po Che's been adapted from Chetan Bhagat's novel, Three Mistakes Of My Life, did she read the book to, say, get a better idea of Vidya? "I haven't read any of Chetan Bhagat's books. In fact, Gattu (director Abhishek Kapoor) didn't want me to read the book. He wanted me to interpret the character in my own way," reveals Amrita.
"It is reminiscent of Zindagi Na Milegi Dobara but has an Indian vibe to it," Amrita defines the essence of the film. "It is very real, and the common man will be able to relate to the characters. It is a story of discovery, of relationships, of friendships," avers Amrita even as she wholeheartedly agrees with her director's description of Kai Po Che! "yes, it is a middle class bromance."
While we are it, we plainly ask her how it was to work with such talented bunch of actors like Raj Kumar Yadav, Sushant Singh Rajput and Amit Sadh? "It was fantastic working with them," she trills before giving us the deets.
"I can't really talk about Amit because I barely had any scenes with him. I had most of my scenes with Sushant and Raj."
"Raj... he is just wow. He is one of the best co-actors I've ever worked with. He is such a skilled actor and gives you so much to play off against, I can frankly say that I've come out as a better actor because of Gattu and Raj," Amrita admits breezily even as she rains praises on her other co-star, Sushant Singh.
"During the shooting, I'd always tell him, 'You are going to be a big star.'" And adding a little more trivia, she says, "I got into the reading habit because of Sushant. He is also the one who got me so motivated about dancing that I enrolled myself into a ballet academy. When you are working in an ensemble film like this one, these are the small things that make a difference in your life as an actor."