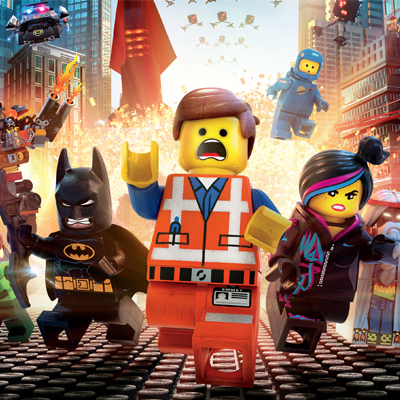 The Lego Movie
The original 3D computer animated story follows Emmet, an ordinary, rule-following, perfectly average lego mini figure, who is mistakenly identified as the most extraordinary person and the key to saving the world. He is drafted into a fellowship of strangers on an epic quest to stop an evil tyrant, a journey for which Emmet is hopelessly and hilariously under prepared.
Cast - Chris Pratt, Elizabeth Banks, Charlie Day , Liam Neeson, Morgan Freeman, Will Ferrell, Alison Brie , Will Arnett, Nick Offerman
Director - Phil Lord, Chris Miller
Verdict - One of the best animated movies to come along in a while, The Lego Movie brings back nostalgic feelings. The voiceovers are brilliant and the comedy delightful. Kids will definitely love the movie, but adults will love it just the same. A must watch for all ages.
IMDb - No Reviews Yet
Rotten Tomatoes - 100%
Release Date - February 7
A Fantastic Fear of Everything
Jack (Simon Pegg) is a children's author-turned-crime novelist whose detailed research into the lives of Victorian serial killers has turned him into a paranoid wreck, persecuted by an irrational fear of being murdered. When Jack is thrown a life-line by his long-suffering agent, and a mysterious Hollywood executive takes a sudden and inexplicable interest in Jack's script, what would have been his 'big break', goes the other way and turns into his worst nightmare.
Cast - Simon Pegg, Paul Freeman, Sheridan Smith , Amara Karan, Clare Higgins, Kerry Shale
Director - Chris Hopewell
Verdict - With an actor like Simon Pegg in the lead, you would expect the movie to be much better than it is. It isn't a bad movie, but it's not something that will be spoken about after. Maybe a one time watch.
IMDb - 5.8/10
Rotten Tomatoes - 44%
Release Date - February 7
A Field in England
A small group of deserters flee from a raging battle through an overgrown field and are captured by two men. O'Neil (Michael Smiley), an alchemist, forces the group to aid him in his search to find a hidden treasure that he believes is buried in the field. Crossing a vast mushroom circle, which provides their first meal, the group quickly descends into a chaos of arguments, fighting and paranoia, and, as it becomes clear that the treasure might be something other than gold, they slowly become victim to the terrifying energies trapped inside the field. A Field In England is a psychedelic trip into magic and madness from Ben Wheatley, award-winning director of Down Terrace, Kill List and Sightseers.
Cast - Reece Shearsmith , Julian Barratt , Michael Smiley
Director - Ben Wheatley
Verdict - For a low budget film, the swordplay and sorcery are fantastic. Strong cast and a great script make this film a must watch.
IMDb - 6.1/10
Rotten Tomatoes - 89%
Release Date - February 7