Traveling on a private jet with 'good friend' Mike Tyson was one heck of an adventure for UFC President Dana White, who got woken up by Mike Tyson.
A video with images were posted on Dana White's Instagram account.
On Tuesday, the two buddies put together a funny Instagram video in which Tyson forces White to change seats on the UFC company jet. A puffed up Tyson then settles down comfortably in white's seat with his neck pillow while a dumbfounded White looks on.
Source: Instagram
In the video above, posted on Instagram, shows White resting peacefully until he gets smacked on the chest by someone telling him to move.
"But, I like this seat," White says.
"I like it better," the rough voice says back, prompting White to get up and change seats. The person none other than "Kid Dynamite" himself then takes White's seat and gets settled with a neck pillow.
After forcing Dana White to give up his seat, Tyson wasn't done with the UFC president. What followed up was a smiling Tyson seen writing the word 'Dick' on White's forehead as he was taking a nap.
Source: Instagram
While the video clearly involved a little acting, it's not clear if the follow-up prank was serious or not.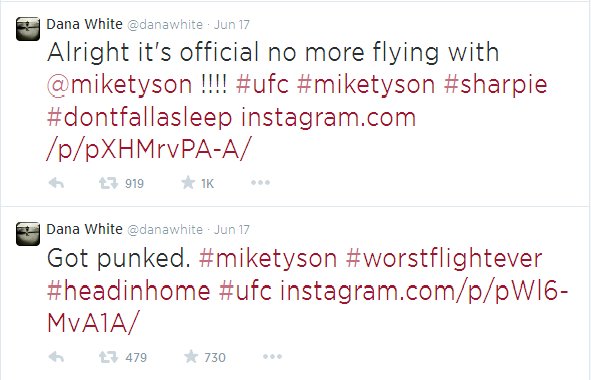 Following the prank, Dana White tweets- regretting traveling with Tyson, calling it the 'worst flight ever'.
UFC President Dana White and the former Heavyweight champion of the world, Mike Tyson were in New York to make an appearance on Jim Norton's show, Vice.