Tushar Sethi, Director, ICIA, the Arts Trust, and a multi-business entrepreneur discusses the art scene in 2014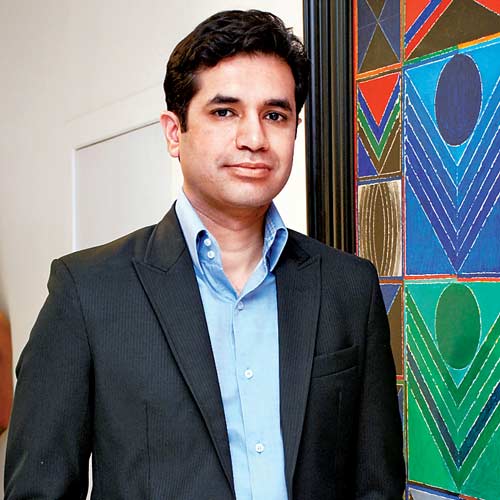 He radiates less of the Kala Ghoda gallerist vibe and more of the Wall Street shark sass.
However, when Tushar Sethi talks about the number crunching world of art auctions, you actually see the passion for art in his eyes. Born in a house where art and artists were of paramount importance, over the years, he nurtured and cultivated this love for the arts. He seems moved by icons like Raza, Rameshwar Boota and Husain and a seminal Gaitonde artwork is on his wish list. "In the contemporary segment, I acquire a lot of art. One also wants to have a Master in their portfolio which is a stable artist." He currently seems transfixed by the uniqueness of Vibha Galhotra's and Viraj Naik's works. "Vibha does these beehives that are made out of ghungroos.
For me it's the artist who has something different to offer which catches the eye and makes everyone take notice," says he.
Career in art
"I love it. It's fun. I like the whole experience of promoting artists. I enjoy collecting art. We have a team in place that interacts with clients. Our Facebook fan following is the biggest today in India in the art segment," says the man, who takes a few holidays in a year and enjoys skiing North of France.
Art in 2014
"Art is the highest form of luxury. People buy their houses, cars, jewellery and bags and then think of buying a painting for a wall, which is just a decorative object, which may not give them short-term return. It is something which people buy just to enjoy. In 2008, the liquidity in the market kind of dried up. The market took a big hit in the contemporary segment. Masters did slow down but prices didn't fall that much. In 2014, one expects the Masters to come back strongly. We have to understand the dollar fluctuation. It has created a huge uplift as far as Indian artists are concerned," he says.
Contemporary art placed well
"It's placed well as of now. It will continue to do well. The market cannot be based on 20 artists, who are the Masters. So you have to have more artists. Certain artists may fade out and they will have to prove themselves. It will take a few years for the contemporary market to recover," he predicts.
The young bright artists
Ask him about who are the young stars and pat comes the reply. "Vibha Galhotra, Thukral and Tagra, Viraj Naik and Suryakant Lokhande. When I look at a portfolio of an artist, where the guy studied, what is his style. Raza, Souza and Husain created their own individual style which you can study from far without even knowing. A lot of contemporary artists have taken an influence from the Western world which somehow doesn't come up to their own style and presence. Given the limited creative artists that they are there in India, they still continue to do well even though they might not have an individual style. Once they come up with individual style, it will create a big bang in the market," says the man, who sold a Tyeb Mehta for Rs7 crore.
Taking the Indian art abroad
"We did a contemporary art show India Xianzai in 2009 in China. The show got amazing footfalls. We had presented the best of contemporary art from India — Subodh Gupta, Thukral & Tagra, Mithu Sen. It was in the middle of a park. We were not looking at anything because it was a museum show and museums do not allow any sales. Thereafter, we exhibited several major artists in our gallery. We did a solo show of Husain — these works came from private collections and it was the first exhibition of Husain in three years in Mumbai after his exile from India," he says.
"After that we did a Raza show. We are also planning a couple of Masters show next year — showcasing works by Bikash Bhattacharya and Manjit Bawa. Other than that, we are also tying up with some galleries to do travelling shows. We are also planning two museum shows abroad and other auctions," Tushar says, adding that, he even wants to expand his portfolio into watches, jewellery by next year.
The 3D art/ installation buzz
"In India it's very young right now. Painters and sculptures are also expanding their horizons and getting into live performances, digital art and 3D visions. Internationally, you have 800 years of paintings going on and you are looking at last 60 years of 3D or video art. In India, there is only 50 to 70 years of contemporary art and you are looking at five years of this art. If you look at what they have achieved internationally in 50 years, it will take us some time to catch up with them. Because there are very few people doing it. It's good that a buzz has been created."
Is canvas dead?
"It will never be dead. From a commercial point of view, it is the only thing selling right now in India and internationally, and not the 3D sculptures or videos. Globally, canvases sell for Rs100 and 500 crore, not less. The most expensive photograph was sold for $ 3-4 million, which is Rs15 crore worldwide, while the most expensive painting was sold for Rs1,500 crore, internationally. There is a huge difference," he concludes.