Well, even though the rains have set in, there's always time to grab some time off from work, and vacation at exotic locations. And oh boy, does Marvel have your local travel agent beat. Their recommendations are literally out of this world.
On Thursday, a new travel site made its way into the virtual world and basically offered a vacation you would never for get. The Galaxy Getaways announces itself as "the universe's premiere travel company," offering vacations on otherworldly extraterrestrial planets all across the universe. In actuality it's one of Marvel's ingenious marketing ploys, promoting the release of their next film Guardian's Of The Galaxy which releases on August 1, 2014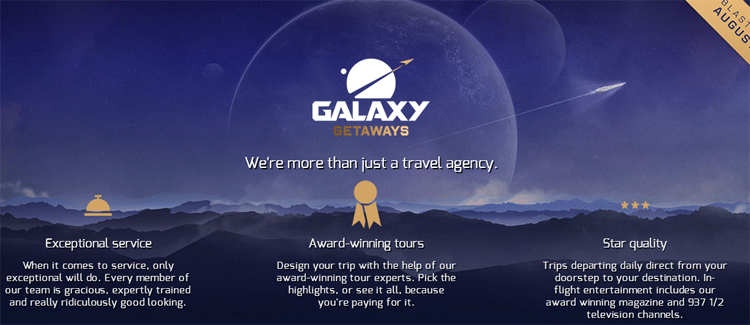 "Hawaii, Tahiti, the Bahamas, some of the most beautiful destinations on Earth...look like shit compared to the rest of the galaxy," exclaims the introduction in their YouTube video. "How do we know? Because we've been there, done that. And now your journey is our job."
The website runs just like a normal travel website, containing information, maps, packages, and even an interactive Google street view of the destinations. So far the destinations listed are - Xandar - The home planet of the Novas, the alien planet Morag, and Knowhere.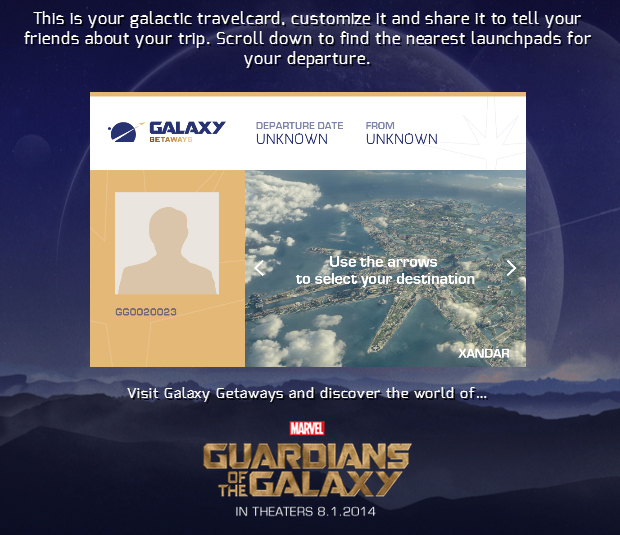 Here's a look at Xandar: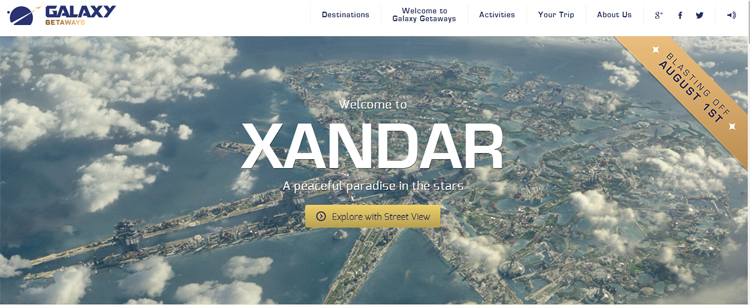 And the Google Street View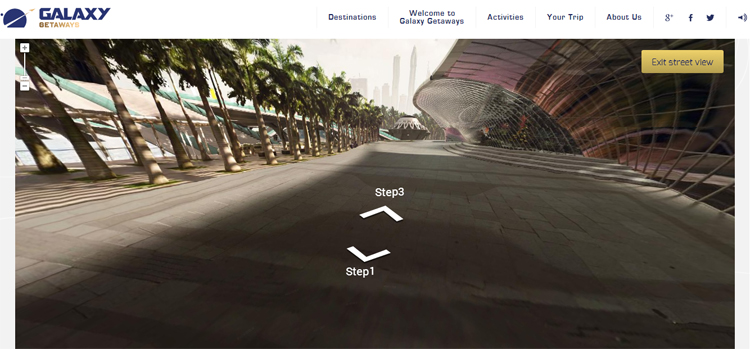 And some good tips on where to go once you're there.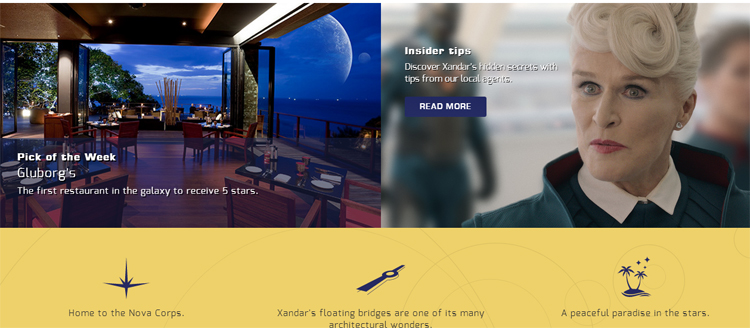 Marvel has done marketing schemes like this before, the most recent being the a viral video revolving on conspiracy theories of the X-Men's Magneto killing JFK resurface on social media.
'Guardians of the Galaxy' is the tenth installment in the Marvel Cinematic Universe and part of Marvel Phase 2. The film will revolve around one of the strangest teams in the Marvel Universe, led by Peter Quill/Star-Lord, a human-alien hybrid. The main roster consists of Gamora, the deadly adopted daughter of Thanos, the bad mouthed Rocket Raccoon, the tree like alien Groot and the vengeful Drax the Destroyer. Peter Quill forms an uneasy alliance with a group of misfits who are hunted through the galaxy after stealing a coveted orb. The film stars Chris Pratt, Zoe Saldana, Dave Bautista, Vin Diesel, Bradley Cooper, Lee Pace, Michael Rooker, Karen Gillan, Djimon Hounsou, John C. Reilly, Glenn Close, and Benicio del Toro. It is produced by James Gunn and is set to release on August 1, 2014 in 3-D.