Comeback queen Madhuri Dixit, who recently impressed critics with her performance in Dedh Ishqiya, is set thrill audiences in an all new avatar in her upcoming film, Gulaab Gang.
Madhuri launched the music for Gulaab Gang on Friday, January 24, National Girl Child Day, in Varanasi, where during media interaction she expressed concern about the current situation of women in India. She also said men needed to change their attitudes and mindset towards women.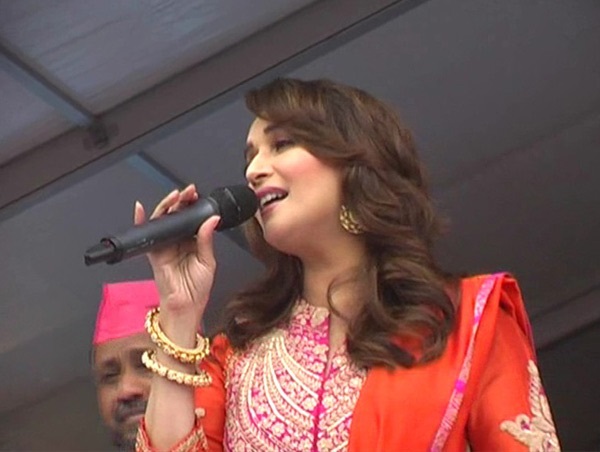 Madhuri Dixit at the launch of the music for her upcoming film Gulaab Gang in Varanasi on 24 January. Photograph courtesy Keshav Yadav.

Gulaab Gang, which releases on March 8, International Women's Day, is centred around women and has no prominent male characters. The film is about suppressed women who live in a patriarchal society and decide to revolt and create history.
Talking about her character in the film, Rajjo, Madhuri told the media, "Rajjo is the daughter of this nation. She is the one who will change the society's point of view towards women."
The film, says Madhuri, is packed with twist, turns and thrills. It has a lot of action despite there being no prominent male characters, and Madhuri had to undergo rigorous training in martial arts before shooting for the film.
The film's trailer has already created a buzz, and audiences are eager to watch the film to see the two golden girls of Indian cinema, Madhuri and Juhi Chawla, who plays a negative character in the film, work together for the first time.
Watch the trailer here.
The writer is the Varanasi correspondent of I am in.