Randeep Hooda's wicked one-liners impressed us.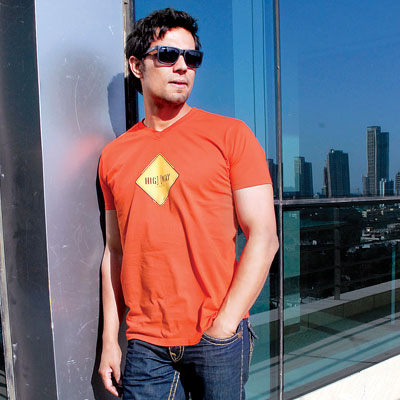 Randeep Hooda is known for his brooding intense roles but has a wicked sense of humour. The actor who will next be seen in Highway, tells us about his take on women and love...
Favourite Hindi film jodi: None. I watch a film for its story and the actors play a part. Seeing some actors together has no excitement for me.
Favourite Hollywood romance: King Kong. It's about two characters who can't even communicate but feel the love and they are never going to be possibly together.
Favourite love song: Lag Ja Gale from Woh Kaun Thi.
Favourite novel: Nothing I can recollect. I am more into spy and war novels.
Romeo or Casanova? Both, one is boring without the other.
First crush: There was this girl called Jyoti, I used to sit next to her in KG. Yes, I remember her.
First heartbreak: In class XII. I was devastated, I started smoking and drinking, that's the way to be a Devdas! Later I regretted it.
Love is: Looking in the same direction yet seeing different things!
Intense vs flirty romance: There's only involved or uninvolved romance. Flirting can be very involving.
A quality in a woman that draws you: Eyes. They are windows to the soul — I have pataoed many girls with this line!
A quality that is likely to put you off: A drunk woman. I have no problems with a woman drinking but it is unbecoming when she is not able to handle herself.
Is there a miss perfect? No.
Live-in relationships: It's a great way to know each other before you involve your families. If you can't get along with each others' toiletry habits, it's better you find out before marrying and divorcing thereby messing up family's emotions.
The best gift to give your loved one is... your time and attention and not a card, chocolate or flowers.
What would you wear to drive your girl loco?
Nothing.
Visualise your dream bed. It looks...
Bouncy and noiseless.
It's Friday evening and you want to unwind. You will be:
Riding horses (not women)!
On your ideal date you would... Do whatever she would like me to do. I'll let her decide.
—As told to Chaya Unnikrishnan