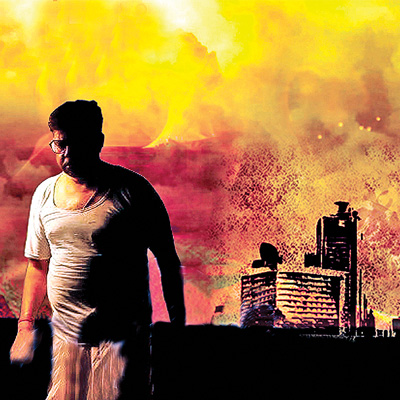 I must have been in Class VIII or IX, and I have been nursing this desire to make film since then," says director Pawan K Shrivastava whose Naya Pata released on December 27. There is little of the airy glam or affected accent in the film maker, writer, blogger and activist, born at Marhowrah, Chhapra in Bihar which used to be a major industrial town of Bihar.
Naya Pata is about a man's struggle to re-establish his lost identity. Set in the late 1980s, the film follows the travails of protagonist Ram Swarath Dubey, who has been rendered jobless when the sugar factory he has been working at shuts down following turmoil in the sugar industry in Bihar due to obsolete equipment, inadequate skills and the inclement political climate.
Shrivastava explains, "This is not something I have heard or read but based on my own experiences growing up in a small village in Chhapra district of Bihar. I have personally seen entire families devastated by the unemployment and resultant loss of income. It all happened so swiftly that they couldn't cope with the blow."
He should know. After completing high school, Shrivastava went to Allahabad for further studies and then moved to Delhi and completed his graduation in computer science. He has worked in various sectors like telecommunications, banking and finances in Delhi and Mumbai. This regular at Mumbai's Prithvi theatre and Delhi's National School of Drama felt he was in the wrong place, left his job, and went to Bihar to make documentaries and direct plays on social issues.
Like many of the hapless workers rendered jobless, Ram migrates to New Delhi in search of a livelihood, leaving behind his family and young wife. As the years pass by, Ram senses the alienation from both the worlds that he inhabits. While the city makes him feel like the outsider who is unwelcome, even returning to his native Bihar does not alleviate this feeling as his roots in the place have been shaken badly.
The filmmaker points out how this double whammy can dent the individual's self-worth, leaving him depressed and yet unable to do anything about it. "Dhobi ke kutte jaisi zindagi ho jaati hai," he says resorting to the popular Hindi proverb. After 30 years of living with this inner turmoil, Ram decides to return to his roots, once and for all; with the hope that going back home will be an answer to his loneliness and anxiety.
"Only when he returns for good does the actual weight of his identity crisis grip him."
When asked why he wanted to make a feature film on a subject which seemingly lends itself better to the documentary or docu-fiction genre, Shrivastava brushes this off. "With a documentary you have to have real settings, case studies and the like. While that is fine, the genre doesn't allow you to have any subtext, at least not to the extent that one can do in a feature film." According to him, "When you watch the film you will realise, that the clothes the character is wearing, the backdrop and even the tenor of voice of the characters are all trying to tell the story."
He admits that finding funds for a film with a "real" subject and no star power can be a tough challenge. "That's when we thought of crowd-funding the project. Luckily, many saw the merit in a subject revolving around the acute loneliness and identity crisis of migrants and my long-cherished dream has become a reality."
Shrivastava, who generated the funds for Naya Pata through social networking sites, personal connections, has become one of very few filmmakers who have tried crowd funding, and started a new trend for filmmaking in India. Incidentally, he has created history by making Naya Pata through crowd funding in just Rs8 lakh. "My experience while making two documentaries, two short films and one feature film and directing more than 200 street plays has obviously helped," laughs the filmmaker who writes at his blogs E-Bihar and Patna Ki Sadko Se.
The movie stars theatre performers Abhishek Sharma and Yashwardhan Singh, who both play the protagonist in different stages of life. Also starring in the film are Shaad Ahmed and Julie Warsi in supporting roles.
Shrivastava is pleased that Naya Pata is being showcased as part of PVR Director's Rare. "This is a story that is very close to my heart and thanks to this opportunity I can now share it with everyone."
Sanjeev Kumar Bijli, Joint MD, PVR Ltd, said, "We're glad to be associated with a film such as Naya Pata. Every aspect of this film talks about cinema that is heartfelt and the efforts gone into the making of this movie are evident. By releasing Naya Pata, we hope that the movie receives the accolades that it deserves, while putting independent cinema under the spotlight. Shrivastava has narrated a very poignant tale about identity crisis through this crowd-funded film."
Director's Rare works as a springboard to support the theatrical release of critically acclaimed cinema from across the world and niche content. Launched in October 2011, it has been involved with the theatrical release of more than 50 films which includes an eclectic mix of Indian and international independent films, cult classics, short film packages and avant garde documentaries.