Imtiaz Ali is back on track with his latest offering — Highway. While in town to promote the film, After Hrs caught up with the auteur with the wanderlust for a quick chat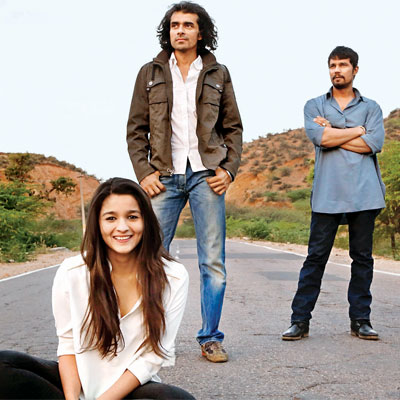 Title tale... The title of Highway had always been on my mind ever since I'd thought of the story. It's inspired by a line from Gulzar saab's song that goes: In Umar Se Lambi Sadkon Ko Manzil Pe Pohonchte Dekha Nahin. And it is this essence that I have tried to capture in Highway. It's not only where all the action happens, but is also symbolic to a journey without an end, on these never-ending roads.
Randeep and Alia... I know it's a very unusual pairing. But then, Highway is not a love story, it's about two unlikely people coming together on an unusual journey. I cast both Randeep and Alia as two different individuals for their respective roles and not as a couple. And what you see of them in the film is very different from what they are in real life.
A film or a travelogue... It's very much a film, which has a lot of action, and is very dramatic in all senses. But it was there in my head that the shots be symbolic of a journey and capture the beauty on the way. There are sand dunes and obviously the road, the presence of which is felt throughout the film. In fact, there are shots where you have Alia sitting in the dhaba, but you can still hear the sounds of trucks giving you the feeling that you are on a highway. These small but beautiful effects make this film come alive.
Experiences during the journey...We discovered a lot of places across Himachal (Pradesh), Rajasthan and Kashmir. Places, which are very cold and desolate, that you would never imagine them as tourist spots. We shot at Kalpa and Aru Valley in Kashmir and in Sambhar, which is a dried salt lake in the middle of a desert in Rajasthan. That was the thrilling experience.
Rediscovering Kashmir... After Rockstar, I always knew that I wanted to go back and shoot in Kashmir. I'm lucky to have family and friends there, so it makes everything easy, and that's also a reason why I wanted to revisit Kashmir, a place that's thrilling and charming at the same time.
Working with AR Rahman... It's always fascinating to work with him as he is the most open-minded person you can ever come across. We work in a pure manner — the compositions and soul for my story come from Rahman.
Next project... I already have something in my head for my next project, but I'll take off in a full-fledged manner only after the release of Highway. Ranbir Kapoor has already confirmed, and I have also approached Deepika Padukone, who is yet to confirm, but in all probability she will come on board.