Yami is all geared up to do her first Tamil-Telugu bilingual, Gauravam, opposite Allu Sirish....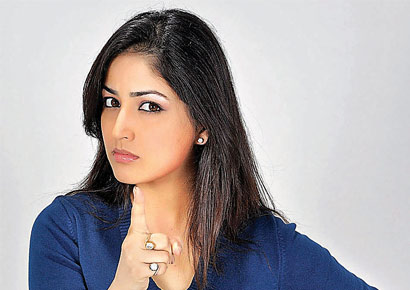 Ever since her entertaining and acclaimed film, Vicky Donor released, actress Yami Gautam, we hear, has become 'as busy as the proverbial bee'. So when we ran into her at the recently concluded Bangalore Fashion Week, we, just like the rest of you, were curious to find out what's keeping the actor on her toes these days.
"My Telugu-Tamil bilingual, Gauravam," came the reply. She could not have asked for a better debut in the Tamil and Telugu industries given that the film is being produced by actor Prakash Rai and directed by Radha Mohan. "Yes! This is a huge project and I am so glad I was offered a role in it. I have watched Prakash Rai's productions and understand the seriousness with which he makes his films. I absolutely loved Abhiyum Naanum, which was directed by Radha Mohan sir and I am very glad to be a part of his forthcoming directorial venture," she says.
What's added to her joy is the fact that she is getting to star opposite Allu Sirish, actor Allu Arjun's brother. "Man, he is 10 times more hardworking than I was as a new comer. He is so dedicated and his commitment and dedication just rubs off on you. There is also so much to learn about the various aspects of filmmaking from him given the fact that he is from one of the biggest and reputed film families," she adds.
And are there any projects down South, especially in Kannada, where it all began? "Bangalore is a city, which is close to my heart. This is where my filmy journey began three years ago. It was Sandalwood that launched me with Ullasa Uthsaha. I am from Chandigarh and never imagined that I would find a place for myself in this city. But very soon I realised that distance was only geographical and not something that was in the heart. I am definitely open to doing Kannada films. Script is all that matters to me and language definitely is no barrier,' she says reminding you of Ashima, the down to earth, matter-of-fact girl she played in Vicky Donor.
At the mention of the film, her eyes light up and she recounts, "I so enjoyed doing the film. I always knew it would turn out to be a good one but the phenomenal response came as a pleasant surprise. From the general public to the critics, the film was a hit with everyone.
I guess it wasn't sleazy and that's what worked in its favour. Come to think of it, the film didn't even get an 'A' certificate!" And quiz her about her next Hindi venture that is due to go on floors in a week's time and all that she will say with a smile is, "I have been asked not to divulge any details. But I'll just say my role will be a complete contrast to that of Ashima's." Now, we are looking forward to the film even more expectantly, Yami!