The actress of the blockbuster hit 'Queen' celebrates her birthday on March 23, with 27 films to her credit.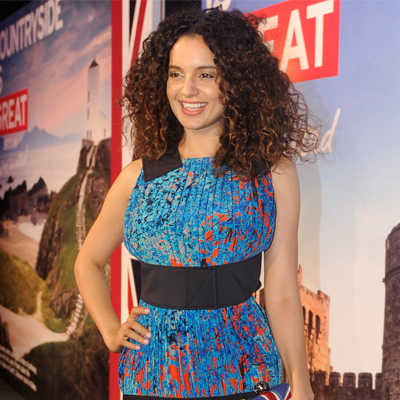 The success of her film 'Queen' has not died out when Kangana Ranaut and her fans are given another reason to celebrate – she turns 27 on March 23.
The actress, who has been in the film industry for 8 years now, has acted in a total of 27 films (counting the three to be released soon – 'Ungli', 'Revolver Rani' and 'I Love You').
Ranaut was born in Bambhla in Himachal Pradesh to Amardeep and Asha Ranaut and had plans of becoming a doctor, until she joined the 'Elite School of Modelling' and acted in several plays for theatre director Arvind Gaur, such as Girish Karnad's 'Taledanda' (Rakt-Kalyan).
Her big break came with Anurag Kashyap's 'Gangster' in 2006 and her performance in the film as Simran won her the Filmfare Award for Best Female Debut.
Following this, her performances in films such as 'Woh Lamhe' (as a schizophrenic Praveen Babi), 'Fashion' (a drug-addicted supermodel), 'Raaz – The Mystery Continues' (a model possessed by a ghost) and 'Once Upon A Time In Mumbaai' (a gangster's moll) earned her the stereotype of an actor with a penchant for dark and troubled character roles.
She broke away from this image in 2011 with the romantic comedy 'Tanu Weds Manu', where she plays the cheerful Tanuja Trivedi opposite R. Madhavan.
Since 2013 onwards, Ranaut has had roles that allow her to express her versatility, and has acted in movies that showcase her acting potential to the fullest. 'Krrish 3', where she starred opposite Hrithik Roshan, Priyanka Chopra and Vivek Oberoi, and 'Queen', starring Ranaut as Rani, were box-office hits and received critical acclaim from film critics and fellow actors. 'Rajjo', released in 2013, where Ranaut plays a Mujra dancer did not do so well.
However, Ranaut is not only an actress who does unforgettable female-oriented roles, but has also been the director and producer for her short film 'The Touch', where a six-year-old boy realises the reality of the world his mother had protected and isolated him from when they move from the countryside to the suburbs. Working with children and animals in her very first directorial debut is a challenge that Ranaut seems to have taken up gladly.
The actress-director is also a budding writer. She has co-written the dialogues of 'Queen' with Anvita Dutt Guptan, and is enrolled in a script-writing course in New York.
Kangana Ranaut is a woman who believes in giving it her all, and below is a list of the films that feature her in unforgettable roles:
Gangster (2006)
Woh Lamhe (2006)
Fashion (2008)
Raaz-The Mystery Continues (2009)
Once Upon A Time In Mumbaai (2010)
Tanu Weds Manu (2011)
Krrish 3 (2013)
Rajjo (2013)
Queen (2013)
Revolver Rani (2014)