The South superstar who is visiting eight cities over four days was excited about his first ever trip to Lucknow.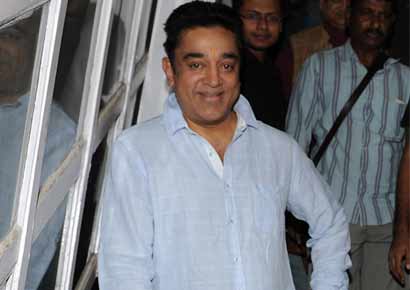 Lucknow seems to be fast becoming an important stop on the Bollywood map. Earlier it was Aamir Khan who visited the city for the first time with co-stars Rani Mukerji and Kareena Kapoor, then it was Saif Ali Khan who headed there to shoot for his Tigmanshu Dhulia film Bullet Raja.
And now it is South star Kamal Haasan who's made a stop-over in Lucknow. The actor flew in the city on Friday night as part of the promotions for his upcoming film Vishwaroop. According to sources, Haasan has planned an eight city tour in four days.
Talking about Haasan's Lucknow visit, the source adds that while there, the actor even met the Uttar Pradesh Chief Minister Akhilesh Yadav. "This was Sir's (Haasan) first visit to Lucknow and he admitted to have fallen in love with the city. After meeting the CM, he attended an event at a dental college and the students turned up in thousands to catch a glimpse of him. They were all very excited and extra security had to be called in. Sir was extremely touched seeing the love they had for him," shares the source.
While in Lucknow, Haasan even took time out to visit the Bhool Bhulaiya and took a special tour guide with him to explain the history behind the structure. An insider says, "Haasan has always shown a keen interest in architecture and was very excited to travel to Lucknow especially since Bhool Bhulaiya is a landmark he had never visited before... After his professional commitments he hired a personal guide to take him to the site and he spent a few hours there."
Post Lucknow, the actor was slated to fly to Nagpur and then Kerala in his private plane. "It is almost a record of sorts for an actor to complete eight cities in so little time. Haasan has barely had time to rest, but his energy levels are unbelievable," adds another insider.