As the line between good and bad gets blurred, the villains have disappeared from Hindi films...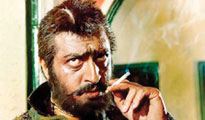 Bollywood has always had heroes and villains. All our stories are about good vs evil. There was Kanhaiyalal and Jeevan in the '50s, Ajit and Pran in the '60s, Ranjeet and Prem Chopra in the '70s, Amrish Puri and Danny in the '80s Gulshan Grover in the '90s...and then the baddies vanished.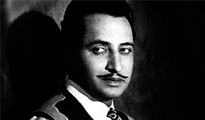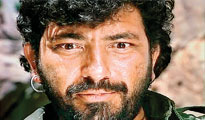 Now there is a whole breed of filmmakers (Karan Johar, Imtiaz Ali, Anurag Basu, Aditya Chopra, Raju Hirani, etc) who don't have villains in their films. There was a time when heroes played the good guys and the villains the bad guys. The lines between the good and the bad have blurred and grey characters have emerged.
The success of films with leading men as anti-heroes (Khalnayak, Bazigaar and Darr) is responsible for the villains being pushed into retirement. The actors who played baddies started playing character roles. When we need a terrifying character now, we import them from the South (Vikram (Raavan), Prakash Raj (Singham and Dabangg 2) or the heroes play baddies.
A quick survery of recent hits reveal that the concept of villain doesn't exist anymore. 3 Idiots, the biggest hit in recent years didn't have a khalnayak. Neither did Zindagi Na Mile Dobara, Barfi!, Rockstar, Cocktail, Jab Tak Hai Jaan, Student Of The Year.

Kiran Rao says "Baddies will always be there in mainstream films for as long as there are stories to tell. But perhaps the perception of 'bad' has changed, as more grey characters are being explored — even as heroes. So the super-bad villains have given way to your average baddie that you encounter in general life — on your streets, or in your offices.
I personally don't miss the completely bad villains, because I have always found them unrealistic — though it was fun to see them in their over-the-top lairs with swivelling libraries that had secret entries into their dark worlds — but I don't think they have gone forever. They will be there as long as we have an imperfect world, because they mirror us, and give us hope that one day right will vanquish wrong forever."
Rakesh Roshan, who had Amrish Puri as villain in Karan Arjun and Koyla and Naseeruddin Shah in Krrish, has cast Vivek Oberoi as the evil guy. He explains "Villains are a must and an integral driving force behind every movie. The villain puts the hurdles in the way of the hero and he has to overpower them. Today's films don't have villains but they still work.
I feel that somewhere a negative force has to be there. The stronger the negative force, the stronger the story. Today's heroes play characters with shades of grey, which are justified, hence they appear weak. They are not full-fledged evil forces. In Krrish 3, Vivek is a very powerful, negative force. There is no justification for him.
He is pure evil." Vivek isn't the only one. Arjun Rampal played a
baddie in Om Shanti Om and then in Ra.One, Aamir Khan is gearing up to play bad man in Dhoom 3.
Sujoy Ghosh, whose Kahaani was one of last year's most critically-acclaimed films, explains the missing status of the villain, "We only copy what we see in our lives. Films are a reflection of society and in real life nothing is black and white. I don't think we miss the stereotypical villains of yesteryear. The age for larger-than-life evil villains has gone. Indian cinema has moved ahead.
Initially we used to have a hero and a villain, but that changed as society progressed. As a director I like exploring the human side to the character which includes the dark side. That's exciting for me. If I write a role for Shah Rukh Khan, I would want it to be a complex character exploring all sides. No character is all good.
I feel that a grey shade makes a person more real. Just because you are a bad person doesn't mean you can't save somebody's life and if you are good doesn't mean you will never do anything bad."
Massy films that play to the gallery (the south remakes or a Hindi remake like Agneepath) still have villains. Rohit Shetty, whose Singham had Prakash Raj play a baddie, says, "It all depends on what genre your film is. Like the film had Prakash Raj, Rowdy Rathore too had a villain and so did Dabangg and it's sequel. As for heroes playing anti-heroes, I think with time, style of narrative changes and so do the kind of characters we want to see on screen."
SRK is baddie in Don and Don 2. John Abraham in Dhoom and Hrithik Roshan in Dhoom 2. Farah Khan says it has a lot to do with actors wanting to do different kinds of roles, "Villains have not vanished, only the stereotyped ones have. People like Amrish Puri and Prem Chopra got trapped in that image and then they had to do it for years.
Fortunately, that's not the same today. Shah Rukh started this trend of heroes playing negative roles when he did films like Darr and Baazigar where he was the anti-hero. That became more popular and set off a trend. Today even actresses like Priyanka Chopra in Aitraaz and Kajol in Gupt enjoyed doing negative roles.
I made Suniel Shetty, a leading actor, play the main villain in Main Hoon Na. Nowadays stars don't want to go the stereotypical way of negative roles like Pran, Prem Chopra, Gulshan Grover and Amrish Puri did. They want layers to their roles. No actor, right from Irrfan Khan to Ranbir Kapoor wants to be boxed in with an image, but wants to experiment. It's a good trend."
The writing is on the wall. Earlier there used to be a Best Villain category in the various award functions. These days it is: Best Actor in a Negative Role. For now the evil monsters only exist in Disney movies. Mogambo khush hua?