Marvel has a lot on its plate right now, but amidst the chaos, one more major casting announcement has been made. Josh Brolin will play one of the Marvel Universe's premier big bads - Thanos.
Thanos was the mastermind behind the Chitauri army that fought the Avengers in the battle of New York, and his after credits introduction made fans everywhere scream out in joy. It was confirmed in an exclusive story by the Latino Review, that Brolin will in fact play the mad titan. He will provide his voice for the role in 'Guardians of the Galaxy', which is set to release in August, 2014. But he is expected to make his full appearance as the character in future films, most likely taking on a major role in the third instalment of 'The Avengers'. Although he might make an appearance in 'Avengers: Age of Ultron' as well, alongside the main antagonist Ultron, who will be portrayed by James Spader.
Brolin has dabbled with comic book movies before, portraying DC Comic's old west hero Jonah Hex, and more recently he was rumoured to play Bruce Wayne/Batman, before Ben Affleck won the role.
Here's the post credits scene from The Avengers
Thanos was created by writer-artist Jim Starlin and first debuted in Iron Man #55 (1973). Since then, the character has proved to be very popular with fans and critics alike, akin to Darkseid of the DC Universe, as being one of the Marvel Universe's most consistent bad guys. Born on Saturn's moon Titan, Thanos is the child of Eternals - Mentor and Sui-San. Thanos through the years had become fascinated with nihilism and death, even forming a relationship with the embodiment of death, Mistress Death.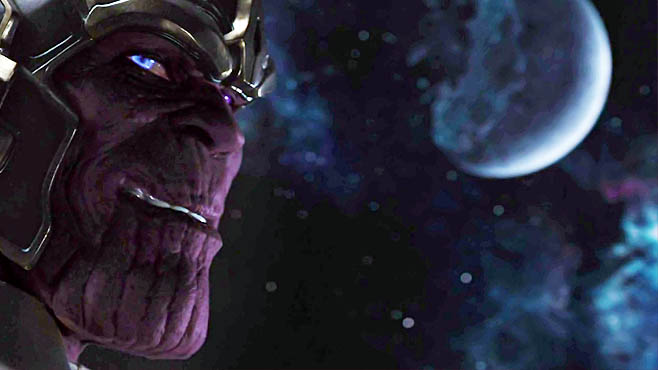 Being a member of the God-powerful race - the Eternals, Thanos possesses the several common abilities but augmented to a higher degree due to his mutant heritage, bionic amplification, mysticism, and his relationship with the entity Death. He possesses impressive superhuman strength, stamina, and durability. He can also absorb and project vast quantities of cosmic energy and is capable of telekinesis, telepathy and matter manipulation. Thanos is also quite formidable in hand-to-hand combatant, having engaged in many wars on his home planet, Titan.
Apart from all this, Thanos is also a genius in advanced science and has created technology that far exceeds Earth science. He is also a master strategist and uses a space vessel called Sanctuary II as his base of operations.
Thanos was ranked number 47 on IGN's top 100 comic book villains of all time.
For a better look at Thanos' origins, watch the video below:
Correction: In an earlier post, we mentioned James Brolin. Apologies for the mistake.