The actor recently revealed that he looks up to the ghazal singer as his mentor and also credits him for his success.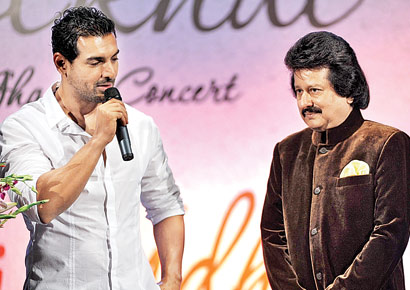 Recently when actor John Abraham attended ghazal maestro Pankaj Udhas' live concert Dastkhat, many onlookers wondered what John's connection with ghazals was. That was until John revealed that he looks up to the singer as his mentor, as it was Udhas who signed him up for his music video way back when John was relatively a newcomer.
"I look at Sir (Udhas) as a mentor becase when I came into this industry as a model, the first person who graciously accepted me in his music video was Sir," shared the hunky actor. John had appeared in the music video of the ghazal singer's Chupke Chupke when he was yet to make a mark in the industry as an actor.
Acknowledging it, John added, "With Chupke Chupke, he is the one man who is more than responsible for my success." Heaping praises on Udhas, the actor said, "I just told Pankaj Sir that his voice still sounds so beautiful, it's amazing and it's really an honour to be part of this ghazal concert."
An insider reveals that the actor had been very busy shooting round the clock for two of his films and was in fact slated to fly out of the country too. But inspite of his hectic schedule, he agreed to attend the concert that saw Udhas render ghazals penned by Faiz Ahmed Faiz, as well as John's favourite and his debut album song Chupke Chupke. These songs apart, Udhas also presented some of his classic hits including Deewaron se, Sabko maloom hai, Chhithi aayi hai and Chandi jaisa rang hai tera... in his own inimitable style.
Meanwhile, John has been busy shooting for Sanjay Gupta's Shootout At Wadala which is based on the underworld and encounter killings. This apart, John has also been busy with work on Jaffna and Race 2, apart from working on his production house.
"As a producer, John tries to be as involved as possible and has been multi-tasking these past several months now. His date-diary is choc-a-bloc till early next year. Keeping the success of his maiden production venture Vicky Donor in mind, he now only wants to keep raising the bar higher and pushing the envelope with each of his own big screen outing," says an insider.