Despite a gash in his back that required 14 stitches, the actor continued to shoot for his upcoming film.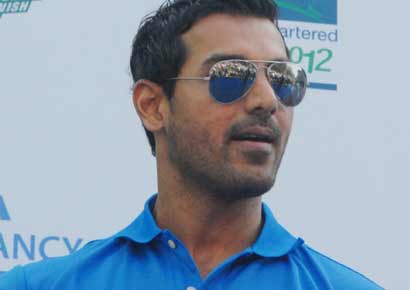 It's touted to be one of the most dangerous action sequences that actor John Abraham has done so far in a film. Shot over 14 days between John and a South African professional fighter Andrew at Filmistan, the action scene in Race 2 was so intense that John ended up with a deep gash in his back that required up to 14 stitches. "It's a unique action sequence that hasn't been seen in any film so far.
John's physique is such that it was necessary to get a competitor as good as him. When we did a research we found Andrew who's a former Mr Universe. Both of them were trained for the sequence before they shot. When the action starts, a huge cage comes down that is made of iron bars. John was injured several times, but we would never realise that till the days' shoot was over. Even when John got a 14 inch cut, we did not know it. Later, we thought we won't be able to shoot for at least four-five days, but John continued despite the injury," says director Abbas appreciatively adding that on the last day the shoot started at seven in the morning and continued till 2 am.
In the film there's a competition scene between Saif Ali Khan and John which leads them to place a bet. Saif challenges John to fight Andrew, which he accepts. Abbas says that looking at Andrew, John decided that he will also train and build his body. "John worked out for three months for the perfect body. We wanted him to have a physique that was leaner than what he sported in Force and at the same time a little beefed up," informs the director.