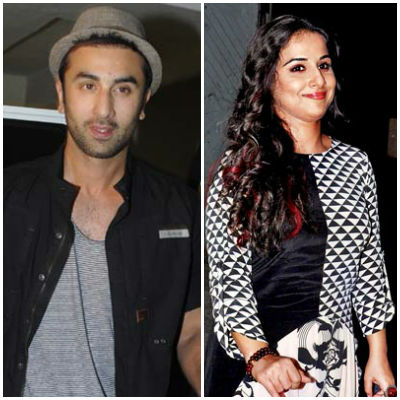 If reports are to be believed, Ranbir Kapoor will be soon shooting promotional videos for Vidya Balan's movie "Bobby Jasoos'.
According to Bollywood insiders, Dia Mirza, whose production house Born Free Entertainment, had asked Ranbir to promote her film to which he readily agreed.
Vidya Balan has done her part in promoting the film by attending events and talking about her film. Now Ranbir in the promotional videos will be describing Vidya's character Bobby and how her snooping methods gets answers to everyone's problems.
Earlier Aamir Khan and Salman Khan too supported each others upcoming ventures.
Salman wore hats saying 'Dhoom 3' which is Aamir's film on his show 'Big Boss'. Aamir had returned the favour by providing publicity to Salman's film 'Jai-Ho' on the micro-blogging site Twitter.
Both 'Bobby Jasoos' and 'Jagga Jasoos' are detective movies and both will be competing to capture the audience's imagination.
Salman's and Aamir's famous rivalry is well known. But they too eagerly publicised each other's films.
With new media and various platforms for marketing movies, it seems Bollywood's biggies have to put aside egos and let go differences, at least temporarily.