Haseena Jethmalani talks about her fabulous life and her dedication to women's issues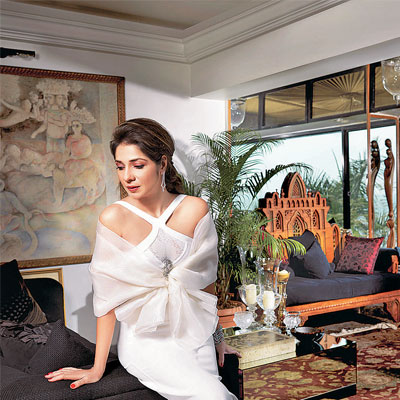 She always has a distinct point of view, a frank opinion and a strong voice – whether she's chronicling a runway trend in her column or taking up women's issues. There's much more to her multi-dimensional persona than the 'style icon' tag which she gets each year in some glossy or another. Social activist, columnist, entrepreneur and one of the most celebrated individuals in the social circuit, Haseena Jethmalani always speaks her mind without mincing words and her clear-cut approach makes her all the more refreshing. Along with her lawyer and politician husband Mahesh, she straddles the social space fearlessly, always fighting for women's rights with an admirable gusto. Over to the dynamic lady…
Being a stylista
She can rock a Nehru jacket at a formal event with the same panache as she does a pair of shorts on a beach. Her look is simply individualistic which makes it even more difficult to decode it. "I have always been interested in fashion, more in terms of art and aesthetically. For me, it's not necessarily a luxurious way of dressing or living but more aesthetically pleasing. I think it's important to be able to identify yourself through your own style and not through clothes. I don't think I have that kind of personality to be able to, without thought, wear something as seen on a mannequin or runway. I think, in some way, it has to reflect my personality. I don't think there has to be much thought in dressing. Once you have a basic wardrobe which is stylish, it's very difficult to go wrong," she says.
Demystifying the closet
Haseena's closet is a cornucopia of cultures and influences. From a necklace she found in a flea market in Goa to a handbag she bought from Portobello road in London to a black cape from Valentino to a sari with French lace from Paris – it's an amalgamation of all her travels put together.
"Over the years you learn what to throw away and what to keep. I have a pair of Gap jeans which are the most comfortable and flattering to me and I have been unable to find that fit anywhere else. You sort of understand what you wear more and that's more important I like to buy things which I can repeat. Of course, you buy that one larger-than-life piece but I am more into being able to change the look with the same piece. I'd pair a formal shirt with a pair of shorts on the beach and the same piece with a pair of black trousers at a sit-down dinner. That's the fun about fashion, being able to make the pieces reusable in different countries and regions."
Fav designers
She likes Rick Owens, Balenciaga and Alexander McQueen, also Ralph Lauren for its everyday easy pieces. "If I were to see every collection from each designer, I'm sure I'd like something in each but I won't be in love with every piece of each designer. Every year collections change and it really depends on what state of mind you are in. There was a time when I was into statement pieces but I'm low-key now and dress monochromatic. I dress more environment-friendly, I would say, more reusable (laughs)."
Icons I admire
"I think Victoria Beckham has maintained herself fantastically after four children. She has a successful career in fashion and is always well turned out. I also like Madonna, Grace Kelly, Audrey Hepburn and Jackie Kennedy. Every woman needs to be happy with how she looks, no matter what anybody says. You may say I'm skinny but if I am not happy with the way I look, I'd go on a low-carb diet. I like men and women who look good and who take good care of themselves. Everyone has their opinion and it's very easy to run somebody down," she says.
My fashion line
"My partner Leetu (Shivdasani) and I ran it very successfully and had a great time. I really learnt a lot from her and the business of the retail market. I'm grateful to her because I learnt about Indian artisans and craftsmanship. We were both going through our own issues personally and we needed some time off so we stopped. However, we haven't entirely shut it down. My daughter goes to college in September and once I settle her into the university and come back, we'll definitely do something together. It's going to be on a larger scale when we'll start sourcing from other designers as well. It'll be a lifestyle store with an emphasis on fashion clothes," she says.
Passion for writing
Haseena has been contributing columns for magazines and newspapers. "I have always loved writing – be it a diary or my fashion columns. For me, it's the easiest way to express myself. I'm not a trained journalist, so my viewpoint is a layperson's viewpoint. I think it's very important for the designers to read that and not just be praised or criticised by fashionistas or journalists, who've been trained in fashion marketing and fashion journalism. Besides the fun stuff, the column also gave me a chance to speak about a lot of social issues. Writing gives you a platform to share a lot of things you strongly feel about. You could write about the weather – as long as it's well written. Writing gives you a creative outlet. If it's satisfying, it's that much more productive. I love reading on history, autobiographies and books on women's issues," she shares.
Being a social activist
Haseena has always raised her voice especially against women's domestic violence. In fact, her husband Mahesh fights women's rights cases pro bono. "It's rampant, of course, in the lower middle class in India. There's also a huge section in the middle class where women are being severely sexually and physically abused in ways one cannot imagine. It's not always the uneducated who are beating up women. It's happening in your neighbour's flat. As a woman you have to be very conscious and not misappropriate the law. Laws have been changed to help women. Article 354 and other such laws are often violated unfortunately and disservice to other women who have been raped or beaten is tremendous. I don't think anybody has a right to physically or verbally abuse anybody. You don't have a right as a woman to misuse the law either. It works both ways. Today if I have a scrap with my husband, he abuses me and I abuse him back, I can't go to the cops and say, 'I was being molested.' I think it's taking things a little out of context. Women who really need the cops won't come forward. You can't say your modesty has been outraged. We all owe it to ourselves that we ought to have a conscience. We need to have fast courts for rape cases and these loop holes regarding the rapists' age should be rectified and made stringent. It's really frightening what's happening in the interiors of our country. The future is looking even bleaker than it was six months ago."
Mahesh and I
"He is my best friend. I can say anything to him whether he is listening or not. It's not really important to me as long as I have someone sitting in front of me, listening to me is good enough. You learn that after 21 years of marriage. You stop trying to be critical or finding faults. You are happy that you are together. We both are very highly opinionated people and we feel very strongly about various issues. He does a lot of pro bono work for women, so in that sense there is a lot of common ground. I never used to be interested in politics but now I'm completely fixated. I love travelling with him because I learn a lot from him. He has a great knowledge of history which I find fascinating. For me, it's the journey of education as well," she signs off.