Indian cinema is increasingly being appreciated globally, say MFF jury members.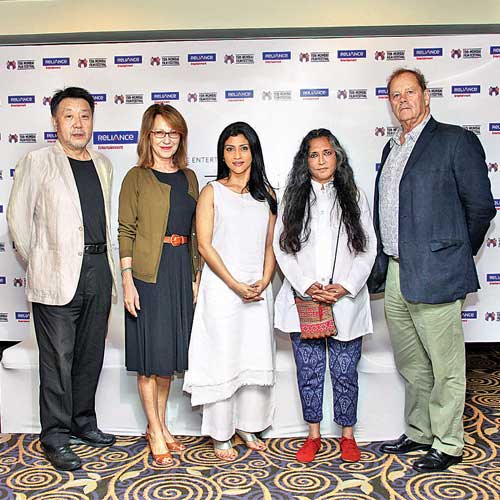 Jury members for international competition at the Mumbai Film Festival (MFF) are happy with the niche that Mumbai Academy of the Moving Images (MAMI) has made for itself by creating platform for many films. Just before the screening of the inaugural film, The Butler, in an exclusive interaction with dna, they also said that Indian cinema is increasingly being appreciated globally, even though the world needs to acclimatise itself for Indian films.
Beginning the interaction, chairperson of the jury Bruce Beresford said, "I keep getting invited to many festivals across the world but often turn down those offers. But when MFF sent out on invitation I knew I had to come." Beresford, one of Australia's best known filmmaker who pioneered the new wave cinema in his country, then added with a wink, "It also helped that I'd finished tying up my three-hour television feature Benny & Clyde."
Deepa Mehta felt the MFF could do more to represent the country and city that it was based out of. "It's the way to go. Look at the Toronto or Berlin festivals, they keep doing that," she said.
Mehta added that she had high regard for MFF which provided a platform to 60% films which would never find a way to get released. She clarified that she had nothing against those who use big stars to ensure their films do better. "Hollywood too does that. Why should it be okay if a Hollywood banner chooses to cast Brad Pitt but Dibakar or Anurag are called sell-outs the moment they cast a Ranbir?" she asked.
Mehta said the festivals should not become a platform for getting West's approval. "This whole circus that builds up before the official Indian entry to the Oscars is announced seems ridiculous. Personally, of course, I was hoping that Lunchbox was sent," she added.
The panel discussion dwelt upon film festivals worldwide including those in India. "Indian cinema is becoming more appreciated globally because this is a very interesting time in film-making.
People are taking risks, and looking at subjects and characters which are out-of-the-box and its also finding a lot of takers," said actor Konkona Sen Sharma who earned critical acclaim for her acting in many films. "Even if they are smaller projects like Ek Thhi Dayan, I feel happier portraying these characters. Anyway the goody-goody, you-can't-question-my-morality characters I've been playing so long seem so repetitive," she added referring to her repertoire.
Mehta replied that she would remember Konkona if she takes up a subject that works with her. "Yes, apart from Woody Allen who I would absolutely love to work with, I want to work with you and Mira Nair," said Sen Sharma. The actor has just finished shooting for Kadambari where she plays Kadambari Devi, wife of Jyotirindranath Tagore and Rabindranath Tagore's muse.
Director-actor Masato Harada, best known for his role in Edward Zwick's The Last Samurai (2003) and Fearless (2006), admitted that the schism between the 'daring and different' and the 'commercial and successful' in Indian cinema always baffles him. "It's not such bad thing that there are two streams, but I find it disturbing that there is very less in between them," Harada said.
Beresford insisted that he loves the choreographed dances and songs. "I flew in early today and was immediately glued to the TV watching the songs," he said, adding the world should acclimatise itself to the grammar of cinema in the sub-continent. "There must be something right about it for it to grip the imagination of so many," he said.